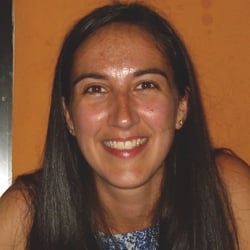 What is your favorite travel memory?
It was 2010 and I was traveling with 3 more friends around Eastern Europe. We were in Kosovo and we took a taxi to go to Gračanica Monastery, a World Heritage Site worth visiting. None of us spoke the local language, the taxi driver didn't speak English, or French, or any other language that we could understand... but we had one of the most amazing conversations ever with the taxi driver. We were talking about Spain, Kosovo-Serbia, food, weather, football, etc, etc, and all of this happened in a language that we created for the moment using words from very different languages. That day, I realized, even more, how important the power to communicate in other languages is, even if you don't master any of them.
How have you changed/grown since working for your current company?
Nowadays my understanding of the world has broadened immensely. Welcoming students with very different origins and traditions, learning about their way of life and their perspectives has opened my eyes even more. Even if you think you are thinking and acting globally, there is always more to know. Learning from my students every single day is the most rewarding part of working with SOL.
What is the best story you've heard from a return student?
In one of my groups of SOLmates, there was a boy who was a beginner level Spanish speaker that did not seem to be very interested in learning. How wrong was I!! A month later he had a bunch of Spanish friends, one of them actually becoming his partner. At the end of the program he was mastering Spanish. A few months later he applied for a job in Spain, became a language assistant in a little town of Andalucía, continued his long-distance relationship, and two years later he moved back to Granada to work here & live with his partner... he is almost bilingual now!
We talk to each other from time-to-time and met for a couple of tapas; I am really happy to see him walking the streets of Granada because the Sol Education Abroad program changed his life for the best.
What makes your company unique? When were you especially proud of your team?
The very personal contact with the students. We know all about the students (all they want to tell us), almost by heart. When I was a study abroad student I didn't have such a close connection with my directors. From my point of view, we help them out the most.
There isn't just one specific time when I felt especially proud; I like being part of the SOL team every day. I happily walk to the office every morning knowing that there is a team that I can count on. Working together despite the distance is amazing. Setting everything up is not easy, but we always manage to find the best solution to problems. We share good moments like positive comments from parents and students & funny things that happen, we learn from constructive feedback... We build our little world every day and that, I love it! I can say that SOL understands the importance of a good working environment.
What do you believe to be the biggest factor in being a successful company?
Taking care of our SOLmates as if, every time, they were the first ones. Sometimes companies forget that the client is the reason for being. Customers are not just one more number; they want to be treated as something unique and precious and not as a "product bundle"/"chained products". That's what SOL offers.