Why did you decide to teach with Greenheart Travel in South Korea?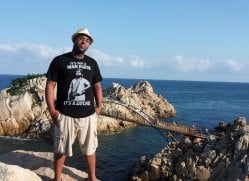 Norman: I decided to teach with Greenheart Travel in South Korea because of all the recruiting companies I have either researched or contacted, I felt that they were the most informative, helpful and eager. Greenheart Travel seemed like a reputable organization, which was evident in the way that their representatives carried themselves at the 2012 Going Global Expo in Toronto.
Plus the fact that they replied back to me in no more than a minute when I emailed them my Application just left a huge impression on me that they mean business and that you can guarantee a reply back for any inquiry that you may have in a timely manner.
What has been your most memorable moment so far?
Norman: There isn't just a single moment that I can come up with, but it is things such as not being able to walk to my classroom to teach without being warmly and enthusiastically greeted by the students.I teach at an all girls middle school and every time I walk the hallways the students always shout, "Hello Teacha!!" There are even times when they will say, "Teacha you very handsome!" which definitely makes my day. My students have always made me feel welcome.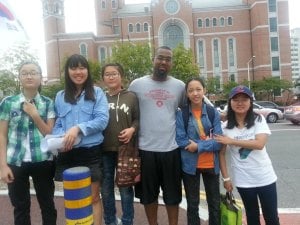 Another memorable moment is when I was recently in the food court of the Costco Store in my city of Ulsan (Yes they do have Costco, so here is more incentive for ya!). And while I was eating a pizza, the cutest little Korean baby, about 2 years of age walked up to where I was sitting and just stared at me in complete awe for at least 3 minutes without blinking.
I could not help but think that she was so amazed to see a black person for the first time. I'm glad I was able to help to expose her to the beautiful diversity that is humanity, especially as Korea can be quite an ethnically homogeneous country.
Tell us about one person you've met.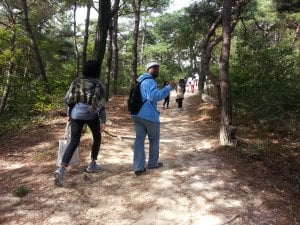 Norman: One person that I've met who has really helped me to feel very welcome in Korea is my new friend Cho. He is actually one of the staff at my school who has been very very helpful and kind. He is one of the staff that has gone out of his way to make me feel welcome at my new school.
There was a time when I needed help to mail some boxes and needed a vehicle to transport them to the post office. He happily gave me the help that I needed and when I went to invite him out for dinner as my reward to him, he simply responded by saying, "No problem, I'm just glad that I got an opportunity to practice my English."
Anything that I need, be it help with interpreting a bill, or anything else, he is always there and availible to help.We have grown to become good friends and I will be looking forward to hanging out with him more often.
What has been the most challenging aspect of the experience?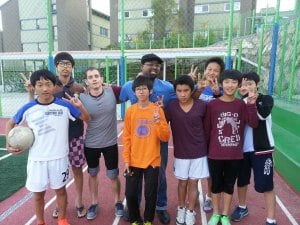 Norman: The most challenging aspect about this experience thus far would have to be the homesickness. You never realize how much you will miss home and how much you really appreciate home until you are living in a completely different culture.When I was planning on moving out here, I was so excited by the opportunity and all that it entailed that I didn't really consider how to cope with homesickness. I thought it wouldn't be much of a problem for me.
But such a challenge is normal for anyone who moves away from home. I have grown to love and feel more comfortable living in my city over time.I have been getting out and about exploring my new city. I volunteer with an organization called T-HOPE Korea (Teachers Helping Other People Everywhere) which helps me to get involved in my new community. I will be looking to join a new gym and pick up a martial art pretty soon. And I have also been visiting new places.
Also social media and Skype also really help with keeping in touch with your loved ones.As long as you are keeping busy then you will be fine.