What led you to become an au pair through Early Bird China?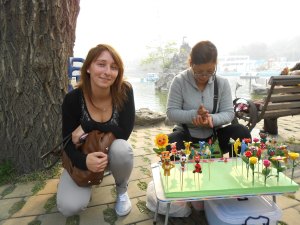 Mariann: First of all, I always was interested in Asian cultures and languages. I listened to Asian songs, watched Asian movies, etc. But when I began university, I didn't have time for my "hobby."
In 2012 I moved to Switzerland, and I worked there as a nanny. While living in Switzerland, I started to learn a bit Japanese and Korean on my own.
But I never tried the Chinese language because I though it was more difficult than the other ones. So I decided to search for an Asian family, because I really wanted to come to Asia.
Early Bird agency contacted me in response to my inquiry. There were two families who were interested in me, but we didn't match up. So the Early Bird agency got to work on finding me another one. My contact person was really nice. She always helped me when I had a question.
I always thought that going to China as an au pair was a good opportunity to know the culture, the language, and the lifestyle of Chinese people. I wanted to visit the Great Wall, The Forbidden City, and Tian'anmen Square because these are the most famous places in the world.
What were you most worried about before your trip? Most excited about?
Mariann: To tell the truth I was a bit suspicious. I was not sure that the Early Bird agency existed in the real life. I was worried they could kidnap me here in China or something like that. I know that sounds a bit paranoid but that was my real worry.
China is a huge country and I have never been here before. My family also was worried about that. After they asked me for the documents and we had the Skype interview with the family, I no longer had these thoughts in my mind.
I also was worried about the pollution. My au pair family lives in Beijing and everybody knows that the air in Beijing is the worst in the world. I was sure that there would be difficult situations because of the language barrier. But I also hoped that we will try our best to learn Chinese and English together.
I was excited about everything because Asia was my dream. So I couldn't wait for my trip.
What has been the most interesting cultural difference you've noticed?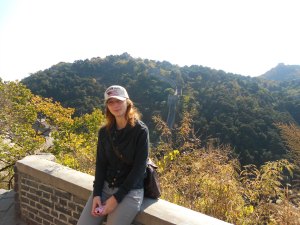 Mariann: Everything is so loud/noisy here. It might sound funny, but that was the first thing what I realized, and I did not expect it. For me it is a bit hard to adapt to it.
Chinese people usually do not use tissue. They spit everywhere in the street. I am okay with that. Just do not spit on my shoes...:)
I also realized that people here in China wear their pajamas under their clothes. They dance especially in the morning.
They really dance in the streets, in front of the buildings. They just hang up the radio on a tree and they listen to beautiful Chinese music, and they dance in groups. Even if there is cold weather. It is like a ritual before and after work.You must see it!
The drivers always sound the cars horn. They do so even without a reason. They like to got to parks on the weekends too and dance there. You definitely will like their dancing!
So far, what is the best experience you've had as an au pair?
Mariann: I had a chance to go to the National Center for the Performing Arts (NCPA) with the au pairs from Early Bird. We watched a dance performance from Tibet. It was awesome! We got to know Tibetan music and clothes, which are both beautiful.
And the building of the NCPA is also impressive. I also have visited the Great Wall with my host family. The view is wonderful in the autumn and the weather is so nice. So it is the best time to go there.
My host family took me for a holiday to Xi'an city. Xi'an is one of the famous cities in China, since it is home to the Terracotta Army.
I have no words to explain all of these things , but these are my best experiences I have had as an au pair here in China. I think everyone should see all of these famous places once in their life. So au pairing in China is the best chance to visit the different famous places here. I wish you also will have a chance to see them.
What advice would you have for someone considering an au pair program?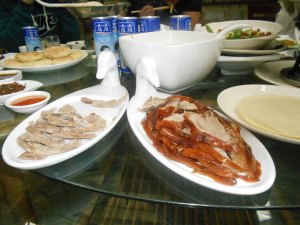 Mariann: You should make sure that you really like and appreciate the culture and the language otherwise it could be difficult for you to stay here. I really like to learn other languages and I learn easily.
If you are interested in the Chinese culture, you will already have knowledge of how the people live here. But you also must be open-minded for everything.
I think 3 months is too short a time. If you really want to learn Chinese and you also want to experience more things, to get to know the Chinese culture and Chinese people, then you should stay here at least 6 months. Even better is one year. You will meet other au pairs from all over the world so you can enjoy your free time along with them.
It is very important to know that the culture is very different, so do not be very surprised at all by the small things. You should respect the way they live their life, and they also will respect your culture.
Communication has to be a priority! If you have something on your mind, do not hold it back. If you do not want to tell it directly to your host family, first you can talk about it with your coordinator. Early Bird will help you, do not worry.