Why did you decide to do a gap year with Early Bird China?
Nora: For many years I've been interested in China, both in the country and the language. I was recommended by a friend to look into the Early Bird China au pair program. When I searched for it, I found that the program was a good way to experience Chinese everyday life. The au pair program with its focus on cultural and language exchange was perfect for me.
What was one of the most memorable days/experiences of the trip?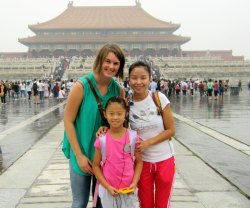 Nora: Together with my host family, we arranged a Swedish and Chinese food evening. I invited my Swedish friends in Beijing and we had a great evening sharing different kinds of food! It was a great way of sharing culture and traditions from two very different countries.
My Chinese family took me to visit the Forbidden City which is a must-see and a great thing to do with them. My Chinese classes at the agency not only taught me some Chinese but also taught me a lot about China. Learning Chinese is the best way to learn about China.
If you could go back and do something different, what would it be?
Nora: I would have tried to be more involved in my host family's life, with cooking and learning more about their traditions etc. I would also have tried to meet more Chinese people in my age group.
Tell me about one person you met.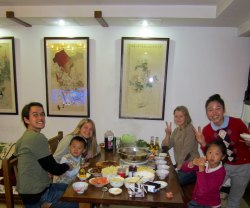 Nora: I met a lot of au pairs and students from all over the world who I had a lot of fun with! It's very interesting to share each other's experience and opinions about China and other countries.
How has this experience impacted your future? (Personally, professionally, etc.)
Nora: I'm very interested in environmental science and think that my experience of the language and the country will be very valuable for me in the future with studies and work.
Personally I thought it was a great way to travel alone. You had to communicate with people, often with language problems but they became more easy to solve during the time there!
I now have friends for life who I definitely will visit again, and I really looking forward to see more of China again soon. : )