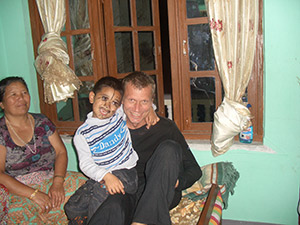 Why did you decide to get TEFL Certified with ITTT TEFL in Japan?
Bernd: I have been travelling for long distances and somehow arrived to Japan. It all happened when I got stuck in the West of Mongolia on my way home. I could not continue my travel to Kazakhstan, and needed a Transit visa, either for Russia or China. I did not know I would need to go to Kazakhstan via another country! Since India, I had been travelling without a map. Someone told me that I could cross from Mongolia into Kazakhstan via ' taxi on the black market'. I did, and ended up on the Chinese border. It was the first time travelling without a map didn't work, and I began to second guess myself. Was it a communication problem? I had to turn back. My direction changed - I guess also my direction in life.
That was last winter. I have been trying to find work as a teacher since, first in Korea, later here in Japan. Not so easy when you don't have a clue what teaching is about! I wasn't sure about the language either. German or English? After a failed attempt to learn the grammar of my mother tongue, I decided to go with English. Going to libraries and studying myself, I had hoped to make myself into a teacher. In a test lesson with kids in Korea, I came to the conclusion that teaching was not for me, no matter how hard I study. There must be another way!
Asking for help, an American teacher gave me a book - "Smooth Moves". A course book, how to become a teacher. When I turned to the page 'Grammar' and found a cartoon where a monk asks a frog "What is grammar, master?", the frog replied, "There is no such thing as grammar" adding "There is nothing to be taught!"; and in the end the monk attained enlightenment and became an English teacher. I decided instantly that this would be my path as well. At least now I knew I wanted to become an English teacher.
Did you teach abroad? How did this TEFL Course impact your experience?
Bernd: When it comes to teaching, I was a real novice. The little experience of teaching I had prior to taking the course made matters worse. I lost the last bit of self-confidence that I could be a teacher, and my different background didn't help.
In the course, we had a thorough introduction what teaching is about. In one of our first lessons, we watched a video by a leading scientist in language learning. It clarified many things for me. Language can not be taught! Is there no way to become a teacher? Was all my studying for nothing? Not quite.
For someone who has never stood in front of a class before, the approach taken in our course was reassuring. No jumping into the deep end yet! We learned through real lessons in kindergarten, elementary school and university, working as a team. Now I have a much better understanding what teaching English in Japan is like, and removed the somewhat mysterious veil of teaching English abroad. I interacted with people, and developed an understanding of the challenges Japanese learners might have with learning English. I learned the most through the one-on-one lessons, especially that planning doesn't work. It's more important to adjust to the other person; isn't it this what teaching is all about? Don't get me wrong! That, I found almost impossible to achieve as our cultures are so very different. I am glad that I could learn what is most important to become a teacher in Japan.
What is one piece of advice you would offer someone considering this TEFL Course and teaching abroad?
Bernd: Don't wait as long as I did in taking a course, and don't prepare. Just take the course in the country or the area you want to teach. Be open and just do it!
What was the highlight of your experience?
Bernd: First lesson in an elementary school! Two kids fetched us from the teacher's room and lead the way. About 30 kids were waiting eagerly for their English lesson, and I could sense the excitement and their expectations. We introduced ourselves and then shook hands with the children, while our course leader, Larry, led the lesson, using pictures and modeled the situation with gestures. Through this method, the kids will recognize the meaning on their own. But it's hard to make such meanings obvious! I realized how challenging it is to teach without the use of a common language. Even the little things like dividing the class into teams, moving the tables and making everybody just stand in a place becomes a challenge, when one Japanese word would suffice. Larry succeeded in leading the children into position, and a vocabulary game is to begin.
I watched one row of tables where picture cards have to be matched with the right spoken English word; the children have been split up into teams, placed at each end, and must race to the other end in a "battle of words"! Teams send someone out quickly when someone gets knocked-out to prevent the other team from reaching their side. I see the kids preparing themselves. This is how you practise vocabulary! The tension builds and with it the excitement of the kids. We can barely hear our own words now. How am I supposed to correct? It doesn't matter anymore; these words will never be forgotten. Making them sound like proper English is just fine tuning. That is something the kids will probably just do by themselves as they go along.
I remember feeling surprised, somehow taken aback by this playground atmosphere. Larry had to use a whistle to be heard! After all, we are in a Japanese school. These kids proved anyone who claimed that English is just too difficult, wrong.
Anything else you would like to share?
Bernd: The course was beyond all expectations. It took place in a family like setting, and next to our lesson room was an open kitchen. We were rather a small group and that made it very personal, the teaching was around one table and had no classroom feeling. The lessons of our own teaching took place in a small language school very close-by. It was a community language school where people from the community came to be TEFL trainees' students. Our instructors monitor the lessons rather unobtrusively. I never felt watched. I myself had three students whom were all highly communicative people, which took me by surprise. They were pretty relaxed and forgiving. Nothing to be afraid of!
I liked this way of teaching us how to teach. It set an example. Coach Dave, the second instructor on the course, made even the difficult subject of grammar into a game. Thus, the 3 hour test of language awareness wasn't a real problem. It gave me confidence that I might find answers somewhere when I am being asked in class. If I forgot anything, I would refer to my comprehensive notes and the numerous handouts. There is also the course book 'Smooth Moves'. One doesn't need to know everything even as a teacher. In fact, the way Dave and Larry shared their personal experiences with teaching made the subject very approachable to me. Making mistakes doesn't matter as a teacher. How else can students believe that the same applies to them?
Am I now a teacher? Far from it! I have an idea what teaching is about. I know the steps. Hopefully one day these steps will become smooth moves. Till then I hope to learn from my experience.
I highly recommend this course to anyone starting out to become a teacher. I enjoyed the course and liked the setting. It gave me the confidence in something I was about to give up. Now and then, putting my plan aside, I enjoy interacting with my students, people so different than myself. Language is culture. I now know that I know very little about the other culture, and I hope to listen when people try to tell me.