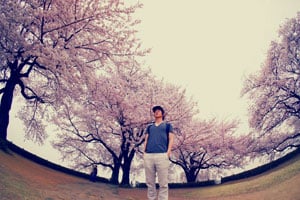 What is the most important thing you learned abroad?
Chris: During the first several days I experienced a bit of culture shock. As I traveled through the JR train system (especially at Shinjuku Station), I was disoriented by the crowds of working professionals and tourists as they swarmed towards their destination.
I remember having to step out of a horde of bustling people and stand at the side of a city street to gather my bearings (and to prevent myself from being swept off course).
There are a lot of implied mannerisms and working processes in Tokyo that a traveler needs to learn in order to live more efficiently. I was lucky that I had some friends to mentor me on these topics.
After a while, I began to pick up on the pros and cons of the lifestyle here. Then I wondered how I should fit in - should I try to assimilate myself into the culture or as my passport dictates, remain a "temporary visitor"? I am of Taiwanese descent, though I am primarily American. Because of my sociocultural background, I do find similarities between my lifestyle and the lifestyle here, but as time went on I found that there's some things about me that I wouldn't change to fit into the culture.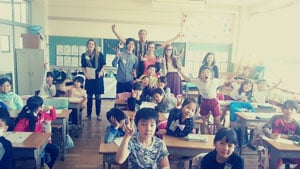 Realizing this was the most important thing for me and gave me a stronger sense of my identity.
What made this experience unique and special?
Chris: Teaching children and adults as part of the TESOL training program that I participated in was amazing. We learned so many English teaching methods for learners who have different native languages. Using communicative language teaching, I engaged in English conversational activities with kindergarteners, elementary school children, and high school students at a variety of educational facilities in Tokyo.
During high school I thoroughly enjoyed my part-time job as a math tutor and so after I graduated, I really wanted to experience a similar activity. This program easily surpassed all my expectations. My trainers, Larry Hughes and David Martin, are very experienced ESL teachers themselves with a great amount of teaching background in Japan.
Being able to make a positive change in the lives of people is a wonderful thing. I view languages mainly as ways to form supportive relationships between people. Lingual and cultural barriers between people of differing backgrounds can be overcome with proper language education. That's why I chose to earn my TESOL certificate - to help others form friendships.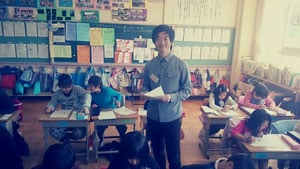 What is one piece of advice you'd give to someone going on your program?
Chris: I would tell this person to definitely keep an open mind to the things that happen on his trip. Traveling should be an exciting journey - trekking far and wide, venturing away from home in order to meet new people, see new landscapes, and absorb new lifestyles.
Learning to let go of some personal dispositions may be difficult at first, but as you travel to more places for longer durations, you'll realize that even if you change some of your thoughts and behaviors, you won't forget who you are. Rather, you'll expand yourself as an individual by giving everything else a chance and learning anew from your surroundings.
What made this trip meaningful to you, or how did this trip change your perceptions, future path?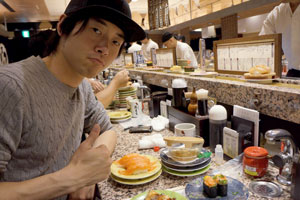 Chris: This trip was meaningful to me because it compared and contrasted my American lifestyle at home with the Japanese lifestyle in Tokyo. It gave me a more worldly sense of my role in my community and offered a third-person view of how other people perceive my country. Being a foreigner in Tokyo put me in a position where I needed to adapt quickly in order to fully enjoy and understand what this city has to offer.
I love many Japanese creations, from buildings to technology to food. I always enjoyed admiring these things in magazines back in the states but after coming here I got to see everything in person - and I'm sincerely happy that I had the chance to do so.
Anything else we should know?
Chris: Sakura season this year began near the end of March. The trees flower into magnificent cherry blossoms and are a sight to behold. It's a photographer's dream to witness these natural splendors. Be sure to bring a good camera if you travel to Tokyo during Spring!