Why did you decide to volunteer with Greenheart Travel in France?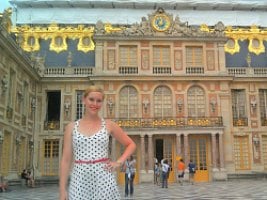 Kelly: Since I am a teacher, I have the summers off- so I knew I wanted to travel abroad. I had done some research on several different programs from au pair programs to summer camps abroad. I came across Greenheart's wesbsite and the Language Exchange Homestay seemed to be the perfect fit for me. I like how it allowed me to pick my length of stay and start date.
I loved the idea of staying with a host family so that I could experience another culture from a native family's point of view. I had also been specifically searching for a program in France because I studied French in high school for several years and knew a bit of the language.
Lastly, the language exchange aspect appealed to me so that I could brush up on my French while also helping my host family practice English. I am so happy with my decision- this program was everything I was looking for!
Describe your day to day activities as a volunteer.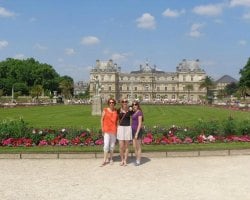 Kelly: I stayed with a wonderful family of 4 who lived about 45 minutes north of Paris. During the weekdays, the family would work and were kind enough to drop me off at the train station in the morning so that I could ride into the city. I explored Paris all day and would take the train back in the evenings, and they would come pick me up.
We would go back to their home and relax, then have a delicious homemade dinner outside together and maybe watch a movie together. On weekends, we would take family outings together. I was there during their independence day (July14th) so we packed a picnic and met with their friends at a beautiful park by a lake.
I was also able to travel to London and Bruges while I was there, each trip was only about a 2 hour train ride away from Paris.
What was the best moment of the entire trip?
Kelly: The best moment of my trip was on a Saturday night at the end of the month, the whole famly and I went to Versailles together. We explored the gardens while the sun set, and when it was dark we watched the fireworks. It was very historical and beautiful and such a memorable moment!
Tell me about one person you met.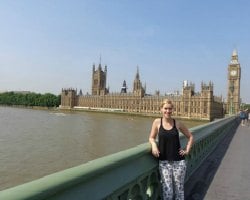 Kelly: One day I took a bus trip to central France to explore some historical castles. The other tourists on the bus with me were from all over the world. That day I met a man from Scotland and another teacher from Chile! She barely spoke English or French and I spoke no Spanish, but we were able to talk a little and figure out that we were both teachers! We walked around together and took pictures of the beautiful castles and it was a very cool to meet her!
How has this experience impacted your future? (Personally, professionally, etc)
Kelly: I feel very proud of myself for making this trip alone. I navigated some major European cities by myself, became more culturally aware, and formed a bond with a truly wonderful French family.
This was the perfect time for me to travel, as I am young and unmarried without children. I am glad I got to see these beautiful places and volunteer with a great program. Everything was very meaningful for me and truly unforgettable.