Why did you decide to embark on a language exchange with Greenheart Travel in France?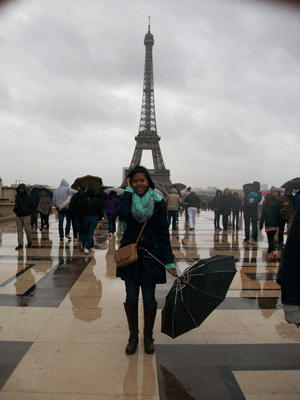 Turquoise: The Greenheart Travel program was the best fit for me. Since I had first started studying the French language in high school, I've wanted to travel to France.
After countless online searches, I finally came across the Greenheart program. I found the perfect program for my situation at the time. I had a limited amount of time between work and school.
The Greenheart program allowed me to choose where I wanted to go, what I wanted to do, and how long I wanted to stay all for an affordable price. I knew I wanted to travel to France.
I also knew that I wanted to improve my French. I found the Language Homestay Exchange perfect for my situation. The Language Homestay would allow me to be submersed in the French culture while living with a french family.
The program would give me the opportunity to improve my French while helping my host family improve their English. I was also able to choose the length of my stay in France.
The Greenheart Travel program gave me the opportunity to fulfill a dream. I took it.
What was the most memorable moment of the entire trip?
Turquoise: I can't name just one memorable moment because there were many memorable moments. I remember my first memorable moment on the flight into Paris.
My plane was only a few minutes away from landing in Paris when I looked out the window and saw the Eiffel Tower. I could see the wonderful city of Paris and my first glimpse of the famous Eiffel Tower.
Up until that moment I had only seen the Eiffel Tower in magazines and on TV. I remember staring at the Eiffel Tower until I couldn't see it any more. I will never forget seeing the Eiffel Tower for the first time.
I also will never forget walking into the most beautiful room at the Louvre. The Louvre itself is amazing! The most beautiful room there is the portrait room where portraits of France's past kings hang.
Before even entering the room you have to walk through these beautiful large golden doors. The doors are memorable all by themselves, but then you walk through and the sight before you is breathtaking.
I walked the entire room to memorize as much as possible.
What was the most unexpected part of the experience?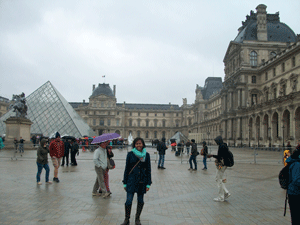 Turquoise: The most unexpected part of my time in France was how much English my host family already knew. My host mother Sandrine and her husband Luigi spoke very good English.
Their eldest son, Matteo was taking English lessons at school and also spoke very well. Before meeting my host family I did not expect them to speak or know much English, but they did and that was unexpected.
I also didn't expect to spend five days in Paris. It is a beautiful city! I always wanted to see the Louvre and Eiffel Tower and to get the chance to visit them was fantastic.
The first week and a half of my time in France was spent with my host family at their beach house. Spending most of my time at the beach with my host family was unexpected and great! I got to know my host family very well.
They were very welcoming.
How has this experience impacted your future?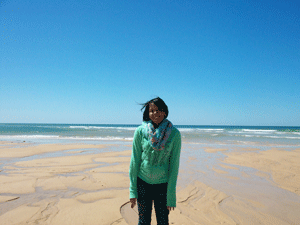 Turquoise: My time spent in France has definitely changed my perspective of the world. This was my first trip abroad and living within a different culture.
My experience had a large impact on my view of family life in France. Before my travels, I only thought of the differences between American families and French families. Not long after my arrival in France, I found how similar American and French families are.
I believe whenever experiencing a culture other than your own for the first time, you immediately think of the differences and not the similarities.
I have had the wonderful opportunity to experience another culture and when the opportunity rises again to travel again, I know I will think of the similarities first rather than the differences.
After spending time in France, I would love to work in France for a couple of years sometime in the future. I find the idea of working for a French- American newspaper or magazine appealing.