Why did you decide to study abroad with CLI?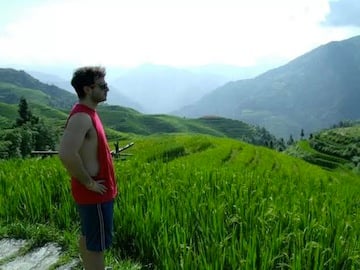 A friend had studied with them and raved about both the location and the teaching staff, so I looked them up. I knew I didn't want to go somewhere like Beijing or Shanghai because I didn't speak Mandarin and would probably be overwhelmed. Guilin (where CLI is located) is a secret little city tucked away in these incredible ancient mountains.
I also liked that CLI was founded and operated by two American brothers, so they would understand my needs. The price was reasonable, on-site housing and one-on-one Mandarin lessons were included, and they even pick you up and drop you off from the local airport. They take care of you the whole way.
What made this study abroad experience unique and special?
There can be no better backdrop for your first time studying in China than Guilin in the southern Guangxi province. Karst mountains jut out from the ground at random like the Land Before Time. The city was also small enough that foreigners were uncommon, so locals all over were delighted and tickled to help you practice your Mandarin. If you can utter a half-formed "nihao" they will clap for you and cheer, so it's great for your language confidence, as well. The environment and the language never lets you forget that you're a world away from home, but the locals around CLI are some of the most genuine, curious, kind-hearted people I've ever encountered in my travels.
What did CLI do for you and what did you need to do on your own?
CLI pointed me towards the right American channels to procure my Chinese visa before I left, but actually following through with it was my responsibility. They picked me up from the Guilin airport when I arrived and dropped me off when I left. CLI gave me a dorm room in their building. The building also has lots of comfortable cozy classrooms for one-on-one lessons or studying, it has several common areas for hanging out including a rec lounge with satellite TV and ping-pong, and a full-service kitchen that anyone can use and share.
One large family-style lunch was made by the staff each day and you can buy lunch tickets in bulk from CLI. Their Chinese cooks (several of them teachers!) make big bowls of authentic Chinese fare and several cookers of rice. Everyone around at lunch time (usually a dozen or two students of all ages) fixes themselves a bowl of rice and takes a seat at a big round table with a huge lazy susan. As the food spins around, you reach in with your chopstick and add what you want to your bowl of rice. CLI also provided in-house Mandarin lessons and coordinated trips and activities so that almost every day there was something to do with CLI if you so chose.
What was the best place you visited outside of Guilin?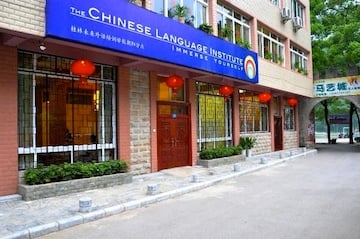 CLI organizes a weekend trip to the Long Sheng rice terraces that is absolutely incredible. It's about a three-hour bus ride away, then you disembark and hike up a mountain to a secluded little wooden hotel.
Everything smells fresh, like rice plants and cut wood, and the scenery is just out of this world. Cultured and terraced rice fields as far as the eye can see in the valley, stretching for miles out of sight. We spent the weekend going on organized hikes, eating at small local kitchens that served rice that was grown not ten feet away.
CLI always gives you plenty of time to do your own thing if you prefer your own silent reflection, all while still having things to do for people who want to. Lots of people went on the group hikes. Some people stayed near the hotel and painted or wrote poetry. It was a beautiful trip for the senses and the soul.
What types of students do you think would be happiest with a CLI program?
Students who know themselves, and know what they need to be happy. If you know that you need the people in charge to be American in order to feel comfortable, if you know that you love to explore other cultures but don't like feeling like an ant in a city, if you know that you learn best with one-on-one encouragement and inquiry, then CLI is for you. If you know that you're always the first person to sign up for activities, if you know that you HATE doing group activities and prefer to be alone, CLI is for you. Basically, CLI is wonderful because they always give you the option whether to participate or not, and make sure that whatever you choose, there is plenty for you to do, both options will be run with utter professionalism.
The CLI building itself is designed to be a hub for study abroad students from all over the world. People are always hanging out, and the Chinese teachers live in the building too, so questions are always only a slipper-footed walk down the hallways. If you want to just bask in this cultural exchange, CLI will let you. If you would rather strike out and see China, CLI will help you.