What made this study abroad experience unique and special?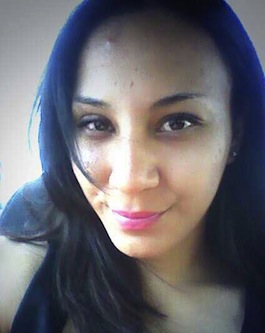 This study abroad was unique and special because I was studying abroad in a country where I did not know the language and did not know much of the country. I only knew the negative aspects of the country. Once, I landed in St. Petersburg, Russia, I fell in love. It was a broken but beautiful city. The language barrier that I had encounter earlier in the semester was immediately broken when I started studying the language.
The Professor was really patient and kind. I was able to make friends with Russian students. They helped with learning the language. In return, I helped them with their English. I also made friends with people from all over the world whom were studying in St. Petersburg. Not only did I have American friend, Russian friends, but I had friends from Latin America, Asia, and Europe.
It was a special experience because not only was I studying and learning in the classroom, but I was also learning about the culture and the people. This is what made it unique. The learning and the experiences were not in the classroom but out in the city.
What is one piece of advice you'd give future AIFS: Study Abroad in St. Petersburg, Russia students?
If you do not know anything about St. Petersburg, Russia, research! It is very important to research the country you decide to study abroad to. Our culture is not the same as Russia's so it is important to know what is acceptable there and what is not. Second, I suggest you bring items that you believe you will need and will want to eat.
After a while, you start realizing that St. Petersburg does not have the items you need. Bring snacks or anything that is acceptable to bring to St. Petersburg. You start missing American food half way through the program. Lastly, have fun! This is your time to learn about the culture and immerse yourself into their society. Don't stay inside. There are plenty of places to explore.
The city is big and beautiful and you want to be able to visit the whole city. If you can't at least you tried. Don't worry about things back home if they are not big, focus on where you live and take the best out of your experience.
Describe your favorite must-have food that you tried abroad?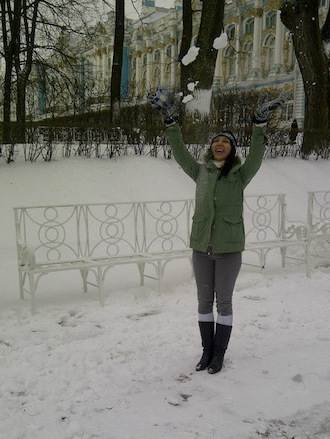 Russia is a very interesting place when it comes to food. I tried different types of food that I didn't know went together. I loved eating блин and борщ. Блин is like a pancake but more like a crepe. It is filled with anything. I always liked eating the one that had banana and chocolate. Борщ is a beet soup. It has other vegetables inside and it is one of Russia's traditional dishes.
Where was your best photo taken and what was it of?
My best photo taken was Peterhoff Palace. It was an absolutely gorgeous day.
Did you run into a language barrier? Did you ever think you knew more/less of the language?
As mention before, I did run into a language barrier. I did not study the Russian language in the states. I had no knowledge of the language. About two weeks before I left the state, I decided to pick up a book at Barnes and Noble. The book had the alphabet and a few phrases that a tourist should know. It helped a little bit but not as much. It is hard trying to learn the language on your own.
Luckily, I was able to learn really fast the first two weeks I landed in Russia. I was able to get around the city and ask questions. I always felt like I knew less because even though I was able to get around and form sentences, I wasn't able to understand. People will speak to me and I wouldn't know what they were saying. I always had to say "I don't understand" and they will try to speak to me in their broken English.
Sometimes, I was able to understand what they were saying because I knew certain words when they spoke so I was able to piece it together. But overall I'd like to say I learned enough and more than I expected considering I did not know anything prior to going.