Why did you decide to teach abroad with Language Corps in Thailand?
Cory: After committing to the goal of teaching abroad, my girlfriend and I had to determine how we were going to do it. So we sat down together with our laptops and started "googling" everything we could think of, dealing with teaching English abroad. After finding multiple agencies we finally decided to apply to the Language Corps program. We choose to apply to this program for a couple reasons: 1) All of our questions leading up to the application were answered in a professional and timely manner. 2) We saw that the program had some good reviews. 3) Lastly, the application process was free; we had nothing to lose.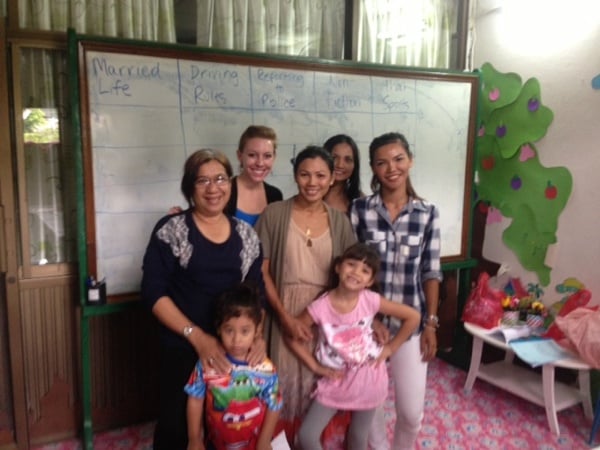 What made this teach abroad experience unique and special?
Cory: For us this experience has been unique and special because, thus far, it has consistently challenged our everyday life. In the United States, we both could have pursued opportunities that would have allowed us to stay in the middle of our comfort zones. Instead we are living in a country with a different culture, a different language and a different way of every day thinking. Each day presents an opportunity to experience something new, and that has allowed each of us to see personal growth.
How has this experience impacted your future? (Personally, professionally, etc)
Cory: This experience has impacted my future in various ways. So far, I have learned just how little I actually need to live and be content. By our own choice, we sought out a house in a Thai neighborhood that had the bare essentials — a roof over our heads and running water. The house came with no hot water, no furniture, no A/C and no kitchen. We chose this housing situation specifically to save money and experience a truly different way of life.
After a brief adjustment period, we realized how content we were with our situation. Although they are nice to have, we have found that we do not need all of the extra housing commodities to make our lives more pleasant. At this point, I am not positive that this experience has greatly impacted our future professional and academic goals. However, due to this experience, we may stay abroad longer than originally planned.
What is one piece of advice you would offer to someone considering teaching abroad in Thailand?
Cory: I would strongly consider the time period in which one plans to arrive in Thailand to start teaching. If a person intends on teaching in a public or private school it is best for that person to be prepared to obtain a teaching job about 1-2 weeks before the start of a new semester. This will allow that person to find job openings and interview for the jobs that they desire. The chances of finding a job in the middle of a semester or at the beginning of a semester break are much smaller. Many teachers tend to change jobs in between semesters so there are often jobs available during that time frame. If a person is not particular about where they work, then they can normally find jobs all throughout the year at a language school. However, language schools do not operate during normal school hours.