Why did you decide to study abroad with CSA in Beijing, China?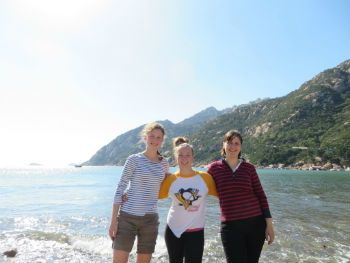 Elizabeth: After taking Chinese language courses in high school and college, I knew that I wanted to pursue studying this amazing language even further. Therefore, my next logical step was to study abroad in China. One of my classmates from college was preparing to study abroad in the upcoming semester, and I thought that she would be an excellent resource to learn a bit more on how to successfully plan this kind of trip. She told me that she had discovered a study abroad agency called China Study Abroad (CSA). I immediately looked into their services and found that they were very personable and accommodating.
I felt comfortable in putting my trust in them to make my trip hopes become a reality. One of my favorite things about planning my trip with CSA was that they allowed you to really customize your trip to your wants and needs. There were various choices about what kind of living arrangement you would prefer, whether you would enjoy taking part in the weekly activities that they held for students, interest in a tutor, and even the choice of signing up for travel and medical insurance. To me, having this variety of choices to make the program exactly what worked for me, combined with the friendly and helpful staff, solidified my decision to use China Study Abroad.
What made this study experience unique and special?
Elizabeth: Before traveling to Beijing, I thought the world was a huge, unknown place. I only knew a couple of people that actually lived in China, but none from any other countries. I never knew much about history, geography, or other countries in general, but by studying abroad, I was able to meet people from all around the globe. My best friends that I made while in China are actually from Germany. I never anticipated that I would be able to meet so many lifelong friends from other countries. This experience opened my eyes to the see that the most important people in your life may not be from your home country. It showed me that you don't need to be with your best friends every minute of every day for them to deserve the title of "best friend."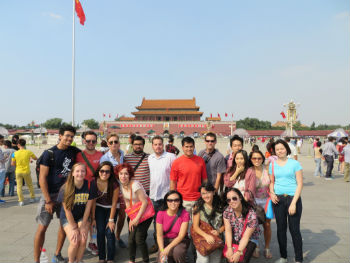 Traveling throughout China was a unique experience in and of itself. Not only did I get to see several Chinese cities, but I was able to travel with my best friends. Combining traveling and my best friends made the experiences that much more special for me. The times that I had with them are the memories that will remain with me for a lifetime. Although I may not get to see them or the various cities in China very often, I will never forget the impact that they made on my study abroad experience and my life. The world that I once thought was huge and unknown is a little bit smaller now.
How has this experience impacted your future?
Elizabeth: Studying abroad at Peking University, China's premier university, took my education one giant step further. Before I studied abroad, I felt as though my Chinese language skills were improving greatly each semester that I continued to study. Although this was true, I never could have anticipated just how much more I could advance in my language skills while abroad. One of my greatest struggles in learning Chinese was being able to accurately listen and reply during an impromptu conversation. Because I was completely immersed in the language, and I had a daily tutor, my conversational skills quickly improved. I was now able to hold relaxed one-on-one conversations with ease. The point at which I realized that I could hold these conversations confidently, was when I knew that studying abroad paid off for me.
Although I have academically advanced because of studying abroad, my confidence level has also increased. I feel as though this experience was exactly what I needed to give me confidence in speaking Chinese, and also in being an independent person. Before studying abroad, I had always traveled with family. Having to take on all of the responsibilities of being on your own is challenging, but because I successfully took this trip, I now know that I am fully capable of going wherever life takes me.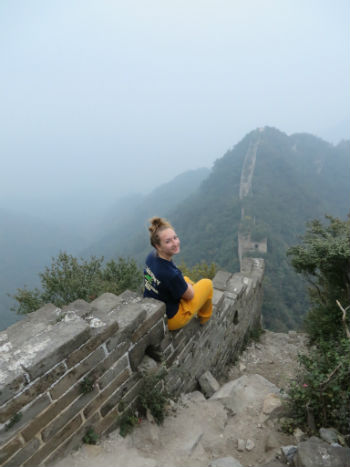 What is one piece of advice you would offer someone considering studying abroad in Beijing?
Be prepared! This is general advice for any kind of trip, whether it be domestic or international. I have had plenty of conversations with other individuals traveling throughout the world, and almost every person I talk to has questions about their trips that can be easily answered with just a little bit of research. I wanted to know everything about every aspect of my trip, from flight itineraries, to pick up from the airport, to details about attaining my student visa. Beyond those travel-related questions, I wanted to know what sort of mask would be best for air-purification, how I would travel to school every day, and what the climate was like.
Some of these questions don't apply to everyone's travels, but that is why you must research your destination and everything about it. My student visa application was by far the most stressful to obtain. I knew that if I did not have all of my paperwork together, that I would not receive my visa in a timely fashion. For this reason, I checked, double-checked, and triple-checked all of my paperwork and all of the websites listing the materials that I would need to obtain my visa. This extra work paid off for me, and I was able to travel completely stress-free. Honestly, if you take the time to be over prepared, you'll be much better off in the long run.