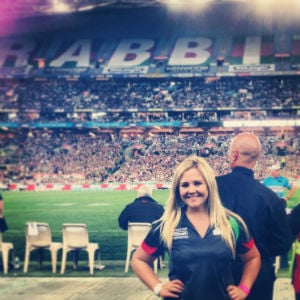 Why did you decide to intern abroad with CAPA?
Kayla: I decided to intern abroad because I understand the importance of interning in college and didn't want to miss out on a semesters worth of experience, especially during my senior year. CAPA places you in amazing internships that would be really difficult to land in the US, so it seemed like a no-brainer to take advantage of the opportunity. Additionally, I wanted the experience of working in another country because I think that is a valuable thing to add to my resume. I was hoping that gaining international experience would help me in a competitive international job market. Finally, in order to get the full experience of being in another country, I knew I needed to emerge myself in as many aspects of life as possible.
What made this intern abroad experience unique and special?
Kayla: My internship could not have been any more perfect. I got placed with the South Sydney Rabbitohs, which is a National Rugby League Team. I was working in the management department, but also did a lot of work with the marketing, promotions, and event planning departments. I am very interested in working in sports so being able to gain sport industry experience in another country was huge for me. The sport industry is incredibly competitive and it can be really difficult to land a job or internship, especially one this amazing. I got to be on the field during playoff games, work in the same office as the CEO, and mingle with the players on a daily basis. Observing the entire operation process gave me a lot of real world experience. The people I worked with made the internship even more special and memorable. Not only did they teach me about their organization they also made sure that I knew where to go in Australia and all the must-do tourist activities. I cannot say enough good things about this experience!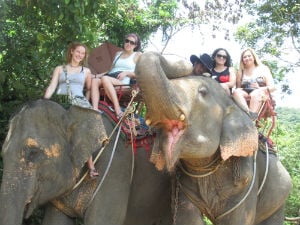 What did CAPA do for you and what did you need to do on your own?
Kayla: CAPA did a lot for me. They organized my living situation, purchased my travel pass, and set me up for an interview in order to secure my internship. They also planned several day trips and were always available to help with academic, living, and working concerns. I had to take care of arranging transportation to and from the airport. I was also in charge of the free time I had, which wasn't too much, however CAPA did provide recommendations of things to do for fun. The only thing I really had to worry about taking care of on my own was food - but that's expected!
What is one piece of advice you'd give future CAPA students?
Kayla: I would recommend that future CAPA students make a serious effort to meet locals. Not just to hang out with while in the country (although that's great too) but make real friends or connections that you will stay in contact with once you are back in America. Since CAPA sets up the program so that you are living and studying with other Americans, it was sort of difficult for me to meet other Australians. If I could have changed one aspect of the trip I would have made more Australian friends, I just couldn't quite figure out how to conquer that goal.