Why did you decide to study abroad with KCE?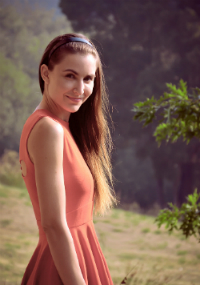 Michelle: My great, great, great grandfather was from Hong Kong and our family had always been a part of the Bendigo Chinese parade and I always felt like China had a special spot in my heart. I've always wanted to learn a second language and after starting my own business I had more flexibility, so when I had a month free I thought, "why not!?", I'll go to China and learn Mandarin!
I chose KCE because they seemed like the only truly immersive experience and they had some amazing differences compared to others - namely the opportunity for one-on-one lessons, staying with a local family and being able to choose the dates and the amount of time spent there...all for about a third of the price. At first I actually wondered if it was just a fake website (almost too good to be true..) but it most certainly wasn't!
What made this study abroad experience unique and special?
Michelle: While I have spent some time overseas before, it was always someone elses decision: work, family...etc. This was the first time I made a decision to go somewhere and do something that was important to me.
What is one piece of advice you'd give future KCE students?
Michelle: I spent a month or more beforehand doing the Pimsleur program which focuses on tones and audio-only learning (about 2 hours per day). I found it really useful and even though it certainly doesn't "prepare" you for the speed and accents of the locals, it gives you enough to feel as if you're not completely out of your depth on arrival!
Describe your program socially and academically.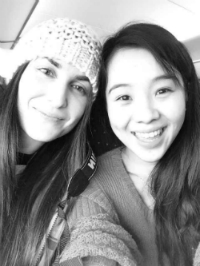 Michelle: What was great about KCE was the ability to personalise because it was one-on-one learning. I'm not trying to get a degree in Mandarin...I just want to learn a language and use it to make friends and communicate with more people. So we just focused on Pinyin, language conversation and grammar - rather than the characters. This enabled me to move more swiftly through the content. I had a great friendship and big laughs with my teacher and ultimately that was the experience I was after.
Did you forget to pack something important? Did you feel as if you were missing something?
Michelle: It wasn't exactly something I forgot to pack, but the second week I was there I had planned to meet a contact in Beijing who was going to show me around. I got to the train station and she told me on arrival that she'd found out she was pregnant the day before and couldn't accompany me. So I was alone, and because I hadn't expected to be traveling solo, hadn't written down any numbers or made plans...then my phone battery died.
Sufficed to say, I had a stressful day but I put it aside and wandered through the Forbidden City, Yohegong Temple and Beihai Park taking photos and managed to get a lovely guy on the train to lend me his phone so I could message my friend (thank goodness I knew words for phone, SMS, borrow...etc!). I then missed my train on the way back to Shijiazhuang so I had to go through the drama of changing my ticket, too! I think I experienced the full gamut of foreigner mess-ups...but I survived!
Describe your favorite must-have food that you tried abroad.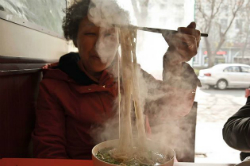 Michelle: On the way back from a visit to the local Shijiazhuang Botanical Gardens we stopped and this awesome noodle place where they made the noodles from scratch in about 2 minutes from a piece of dough. I have no idea how they did it, but it was incredible to watch and of course super tasty!
Tell us about any interesting cultural tidbits you noticed about your country.
Michelle: There so are SO many!! But here's a few... Hygiene is quite different - you don't get to flush toilet paper (you put it in a bin), the toilet and the shower are usually all in the same space, smoking is allowed pretty much everywhere and the pollution is intense. The first night I was there I actually slept with my face mask on!
Despite being exposed to some foreign media, I was still amazed at how I was stared at. Back in Australia you can walk through some streets in Melbourne and most people are Chinese - so we're used to Asian culture here. But in Shijiazhuang, I would get people just gazing at me with no attempt to be subtle about it! It was very amusing.
One morning I was woken by wailing outside my bedroom window. I was told that when someone dies, people must wail at a specific time each day (in Shijiazhuang it is unfortunately 6am!), and the louder they are, the less likely the person will come back to haunt them as a bad spirit. A strange juxtaposition of old culture and new as I walked outside and saw people getting into cars or talking on their smartphones...
Older people are MUCH more active in the community. They do exercises and hang out together by playing games in the street. It's actually really amazing and cool to see.
Do you feel you got a chance to see the city from a local's perspective?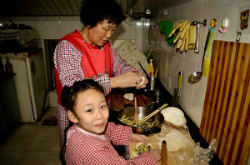 Michelle: I rode a bicycle to school every morning, ate local food, watched local TV (which mainly consisted of bad audio dubbed Korean soap operas and hilarious singing competitions!), went shopping and to kinder with my host family's daughter, got my "hair done" with my host grandma, helped cook dinner, and even spent Chinese New Years with my host family. I feel like I had the most authentic experience you could get without getting a job and renting an apartment!
Did you run into a language barrier? Did you ever think you knew more/less of the language?
Michelle: My host family couldn't speak a word of English, so hand gestures and CONSTANT looking up of words on my phone were a daily reality. I think the third day I was there I had a bit of a cry in the evening because I just felt so overwhelmed and frustrated by my complete inability to communicate. In Australia I knew my identity - an intelligent business person with things to say, but in China I had the language skills of a 2 year old - it was confronting and humbling all at the same time.
Obviously, I wasn't going to learn a whole new language in a few days, but it doesn't stop a perfectionist from getting down on themselves when they can't! Patience is a virtue when learning Chinese. But slowly change occurs. By the end of 30 days, on my way back to Beijing airport - I kept up a fairly fluid conversation with a Beijing taxi driver and we even ended up singing some songs together which was just a wonderful way to say goodbye.