Why did you decide to work abroad with IEP in New Zealand?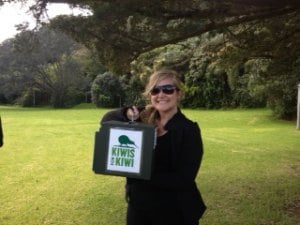 Katie: I chose to do my working holiday in New Zealand with IEP just as an accident really. I had known since my senior year of college that I wanted overseas work experience.
Originally I planned on work abroad in the UK because the study abroad department at Purdue gave me a pamphlet on BUNAC programs.
Unfortunately the exchange with the UK ended before I was ready to embark on my journey, so I revisited that pamphlet and decided on New Zealand instead.
At the time IEP was owned by BUNAC, and both were absolutely instrumental in getting my working holiday off on the right foot.
What made this work abroad experience unique and special?
Katie: In my opinion, the absolute best thing about travel is establishing connections with people from all over the world. People who more than likely grew up quite a lot differently than you.
But nevertheless, they are people you connect with on an even more human and sincere level than your neighbors back home. These people you connect with while traveling are friends for life and working abroad allows you to expand upon those connections.
What was the best moment of the entire trip?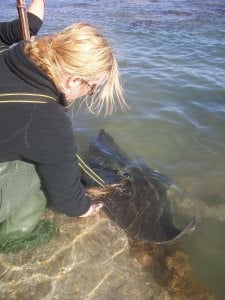 Katie: It's so hard to decide on one best moment of my time in New Zealand – even when things didn't go as planned every moment was incredible, and makes for great stories later! Some of my highlights were:
1) Rugby World Cup – New Zealand hosted the 2011 Rugby World Cup, which was six weeks of pure fun! I was living in Auckland at the time and loved being part of the buzz, especially for the opening ceremonies. All businesses closed early that day, and the streets were flooded with die-hard rugby fans from all over the world.
2) Kiwis For Kiwi – The kiwi is New Zealand's most beloved animal and the entire nation bands together in effort to protect it from endangerment. Most kiwis live in protected areas, like small harbor islands. My employer sponsored the nonprofit Kiwis for Kiwi, which helps release kiwi chicks in to safe areas, and I was selected to take part in a special release. It was such an amazing experience to have a daytime encounter with this very shy nocturnal creature. Something I'll remember forever!
3) Tongariro Crossing – Part of the reason I chose NZ as my work abroad destination is because I wanted to immerse myself in nature, and challenge myself in ways I never had. For me, completing the Tongariro Crossing (best one day hike in the world!) was one of those challenges, and a huge personal achievement. And such a stunning sight – active volcanoes, crater lakes. Certainly not something you see in Indiana!
What do you the miss most about New Zealand or your experience?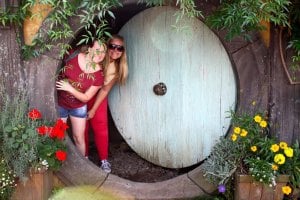 Katie: It's easy to fall in love with the sheer beauty of New Zealand because from the moment you land in Auckland you are surrounded by lush greenery and stunning seascapes. It's the magical land of Middle Earth!
But the thing I miss the most about my time in New Zealand is the people and way of life.
There's not many places in the world where you can find honesty boxes at roadside fruit stands, or where people leave work right at 5pm and allow whatever is left to wait until the next day.
Also for a country of just over 4 million people, the diversity is incredible! New Zealand is a melting pot of cultures, and has enough charm to attract visitors from all over the world. And honestly, you can't beat the life as an expat!
How has this experience impacted your future?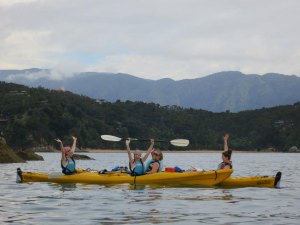 Katie: I honestly believe that I became the person I always knew I wanted to be while in New Zealand. So often people remain in their comfort zones and end up getting frustrated with their life direction, but when you make the leap to another country you can't use the same old excuses (family, friends, etc).
You are forced to think for yourself, weigh your own pros and cons for every decision… and ultimately those actions showcase your true self. I now know that I adore being the minority (not many Americans in these parts!).
I unabashedly prefer Pinot Gris over Sauvignon Blanc. I'm ok with splurging on a weekend adventure and cutting back spending during the week.
I also appreciate that I was able to develop professionally during my time in NZ. They suffer from a bit of a brain drain since many kiwis move to Australia to make more money.
New Zealand values experienced overseas workers, and I found it possible to use my transferable skills to change careers not once, but twice!