You were one of the first ever "Leapers" before joining The Leap's team. Describe your day to day activities as a volunteer with The Leap in South Africa.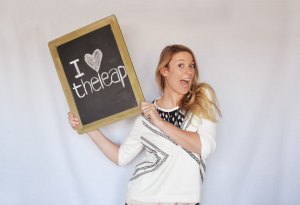 Alice: Every day you spend in the bush is different. That's the beauty of living in a wild environment surrounded by animals – you never know what the day is going to bring you, from seeing a lion to being drafted in to recapture an escaped giraffe!
That's not to say there's no structure to the volunteer work though. You'll be kept busy for between 6-8 hours per day Monday- Friday and follow an itinerary which includes a variety of community and conservation projects.
Life in the African bush starts early. Typically you'll be up at dawn a couple of times per week to take part in game-drives with professional rangers. This is the time of day when wildlife is at it's most active, before the heat of the African sun sets in and animals take cover or reduce their energy output.
Then it's back to the house for a breakfast of cereal and toast, fruit and coffee (essential after those early starts) and out to join rangers on conservation work in the reserve for a few hours. Reserve work might be fixing roads or fences, anti-poaching patrols or Rhino identification.
At lunchtime it's back to the house to take a dip in the pool and eat with the rest of the team. Then once the temperatures have cooled a bit it's back out to work. Afternoons might involve more conservation work or a couple of hours in the local township interacting with preschool kids at the children's center or constructing a care home for AIDS orphans.
The evenings are your time to chill with a few beers around the fire, talk over the day's safari highlights and listen to the ranger's tales of life in the Bush…or get a few stories of your own if you happen to be on a survival night out in the reserve!
Was it difficult to navigate around language barriers?
Alice: The majority of staff speak fantastic English, despite it being a second or even third language for them. In the township English is less widely spoken but you have the help of staff to help you to communicate with the locals and teach you a few words in the regions dialect to impress!
Working with kids you'll find that a great deal of communication is non-verbal and that language barriers are easily overcome through games and sports. The smile is a universal language!
What's something interesting about South Africa that the average person doesn't know?
Alice: During 2012, in South Africa alone a staggering 668 Rhinos were killed by poachers, that's almost 2 a day. Last year those figures increased to almost 1000 rhinos.This poaching is predominantly fueled by the illegal trade in rhino horn; globalization and economic growth has made it easier to establish illegal trading routes.
The current poaching crisis is attributed to the growing demand for rhino horn in Asian countries, mainly China and Vietnam, where horn is believed to have medicinal properties. Kwa Madwala is home to several herd of endangered Rhino and volunteers help to protect them from poaching by fixing security fences, patrolling the bush for illegal snares and tracking the Rhino on a daily basis.