What led you to join The Leap's program in South Africa?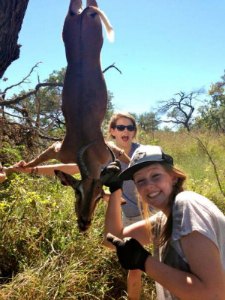 Jacqueline: When preparing for my gap year, I looked everywhere on the internet to find a program that would be worth all the money.
I wanted to so do something with animals, somewhere far away in a different environment. During my search I found the horse conservation program through The Leap. It ticked all the boxes, and I could ride horses again!
It looked trustworthy (my parents found that reassuring as well!) and my parents called a couple of times to check things.
Describe your day to day activities as a volunteer in South Africa?
Jacqueline: Everyday we would ride horses from 6-8 in the morning. Yes it's early, but really worth it. We would gallop through the bushes, spotting wildlife.
Besides horse riding, everyday was different. We went to the orphanage a couple of times, had tons of game drives ( where we spotted lions, elephants, hippos, rhinos, etc.), did some conservation work on the reserve, and went to the shopping centre in Nelspruit a couple of times.
We also had excursions to Sabi, Khosi Bay, saw Jessica the Hippo and we even slept out in the bush for one night. Saturdays were party nights and on Sundays we rested and relaxed.
Sometimes things came up just one day before that were not originally planned for the trip. For example, we helped out at the rally in Malalane, which was not initially in the program.
What was the best moment of the trip?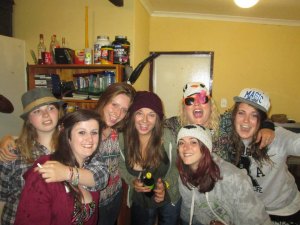 Jacqueline: Falling in love with Africa. Every moment of the trip, everything I have seen, has made me fall in love with South Africa.
I especially loved the game drives and the trip to Khosi Bay (which was a little holiday). Oh and horse riding! Especially the first time we were close to giraffes and wildebeest was so amazing!! We've also seen the elephants whilst riding (which was kind of scary!)
I have met amazing people! I have met many South Africans as well as English people. Those people are still my friends and I still have contact with some of them on a daily basis.
What's something interesting about South Africa that the average person doesn't know?
Jacqueline: This is not something I can explain. Of course I've learnt things about wildlife and nature.
I've experienced things that don't happen in Europe, like being charged by elephants or helping to control bush fires that got out of hand (not with water... With evergreen tree branches!)
But what impressed me the most was the way of life, the things you see when traveling the country. It's so different than Europe or Australia or any other country.
How has this experience impacted your future?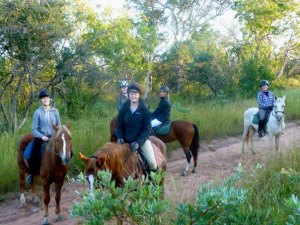 Jacqueline: This trip to South Africa has definitely had an impact on my life. I've learnt more about myself, like how to get along with people I don't know, and how to be fully responsible for myself.
For example: I missed my plane from Johannesburg to Nelspruit. Normally I would turn to my parents and let them take care of things, but while on the trip I had to think for myself and find a solution myself.
I am 100% sure that I'm going to go back to South Africa. I will probably do an internship there!