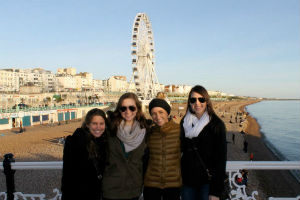 Why did you decide to study abroad with IES Abroad?
Alexandra: I decided to study abroad with IES because the organization has received fantastic reviews and feedback. I was undecided about the overall idea of studying abroad and the personal attention that IES gives you throughout the application and preparation process makes the transition simple.
I also was very interested in the classes that IES had to offer and I was impressed that many of the classes were focused on just London. The program is small and my classes were located in a historic home surrounded by universities and the housing is out of this world. IES also offers the opportunity to stay involved and I find being an ambassador is very rewarding.
Describe your program socially and academically
Alexandra: I spent a great amount of time with the other students in my program. We all lived in the same building, attended the same classes and since my program was so small, everyone turns into family and we all still keep in touch almost 2 years later!
Academically, the program is extremely engaging and all my classes were based on just London so the city was my classroom. My classes met once a week and we would have lectures, homework and reading but we also went on a lot of field trips that were walking distance.
For my British Youth Culture class, we went to all the cultural landmarks, such as Abbey Road, and for my Media in the UK class we went to BBC Studios. I also took Architecture of London and we did walking lectures in different parts of London for every class.
Describe a goal you set and how you went about accomplishing it.
Alexandra: My goal was to learn everything I could about all the different cultures in London and I accomplished that by eating my way through each section of the city and visiting the theatres. I went to a different theatre every Thursday evening and most were in bustling squares filled with great restaurants, energetic people and packed pubs.
My favorite theatre is Royal Court Theatre in Sloane Square. London has a very large Bengali population and Brick Lane offers endless Indian restaurants with some of the best curry houses in the world. I travelled to Oxford to try traditional English dishes such as Fish and Chips at The Eagle & Child.
On the weekends I would venture over to Borough Market where I could have a whole meal based off of samples with a glass of mulled wine and mingle with the local vendors. Take in everything you can and make as many friends as possible.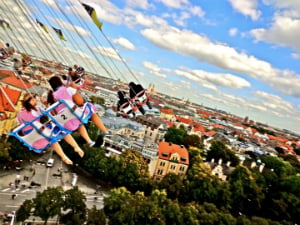 What was the best place you visited outside of your study abroad city?
Alexandra: I travelled to a few other cities while abroad including Munich, Germany for Oktoberfest, Brighton and Oxford, England and Copenhagen, Denmark and Madrid, Spain.
I love the seaside city Brighton for its reputation, beautiful views and it is great for a day trip! Brighton Pier is filled with carnival rides, games and snacks and is a great place to catch the sunset. While in Brighton we toured the exquisite Royal Pavilion, explored the quirky shops and street performers and dined at some of the 400 restaurants Brighton has to offer. Brighton is about an hour and a half away from London so it might even be worth going a few times!
Outside of London, my favorite city was Madrid. Madrid never sleeps and eating dinner at 11:30 PM was a major culture shock for me. I enjoyed being challenged and if you do visit, definitely check out Mercado de San Miguel and try EVERYTHING!