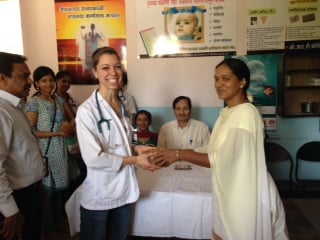 Why did you decide to study abroad with CFHI?
​Meredith: I chose to work with CFHI after meeting with Dr. Evert, the executive director of the organization, when she came to my school for a presentation. Like the rest of my interactions with the staff at CFHI, she was helpful, passionate about each program the organization sponsors, and easy to talk with.
CFHI also offers multiple opportunities for students, like me, who are interested in pediatrics and women's health. One of the main reasons, however, that I chose CFHI was their mission. Their focus is on collaboration across borders. The students who participate in the program are sent with the goal of learning more about the health care systems and culture of their host countries.
What made this study abroad experience unique and special?
​Meredith: I was the only student in the program during my rotation month, which made my experience extremely unique. I was pushed beyond many of my comfort limits, and was able to able to grow in my academics as well as socially and spiritually. I couldn't fall back on the comforts of having fellow native English speakers or similar travel companions.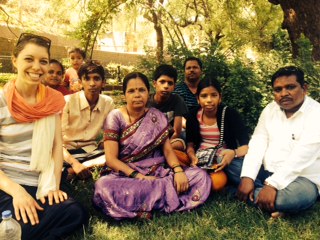 However, this provided a perfect set-up for me to spend more quality time with my host family and gain some confidence in traveling solo. I was also able to take the time to just observe and soak in my surroundings. My busy schedule these past few years have gotten me out of the habit of taking the time to do this, so I was extremely grateful to be forced into a situation (because of the language barrier) where I was mainly an observer and learner of both the health system and culture of India.
I developed some wonderful new friendships with my host family and with those who worked at the clinics. The amount of hospitality they demonstrated and patience with my lack of language knowledge was amazing.
What did CFHI do for you and what did you need to do on your own?
​Meredith: CFHI set up all of the living arrangements, transportation to and from the airport, food and clean water during the rotation, and transportation to and from the clinic sites. They also arranged all of the rotations with the physicians and made sure that I was safe and comfortable throughout the entire trip.
I was responsible for arranging my flights to and from India, receiving all required vaccines before traveling, and acquiring my tourist's Visa before starting the program. I also was free to travel on my time off during the month, but was responsible for paying for these trips and making the arrangements on my own. The program director and staff in India were extremely helpful, however, in helping me with these arrangements.
Describe your favorite must-have food that you tried abroad.
​Meredith: I LOVED the food in India. The program director had me try a different food from various areas of India each day for breakfast to give me a good intro into Indian food. My host mom was also an amazing cook, and made sure that I never was a tad bit hungry.
If I had to pick one must-have food I would definitely say chapati. My host mom taught me how to make this, and I've made it several times since I've been back because I just couldn't get enough of it!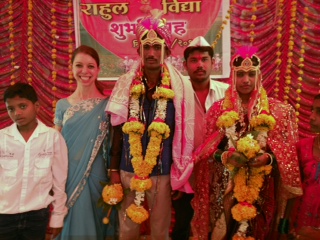 I also enjoyed all of the spiced chai. Even though I was there in the hottest month, everyone drank their chai steaming hot! So it was not the most refreshing drink, but the flavor was amazing. In the clinics, we would always stop around 12:30 to have a chai break. I would look forward to these each day, and am seriously considering incorporating them into my work day back in the States!
Did you run into a language barrier? Did you ever think you knew more/less of the language?
​Meredith: Like I had mentioned earlier, the language barrier was a mixed blessing for me during this trip. I tried to learn a few key phrases before coming over, but there are so many different languages and variations of the same language, that I was hopelessly non-verbal for most of the trip.
This proved to be secluding at times, but again forced me to be more observant and reflective. The physicians in the hospitals and clinics did speak very good English, however, so I was able to have some great conversations with them about India's health system. They were also very interested in the U.S. health system, so we had some interesting discussions about that, too.