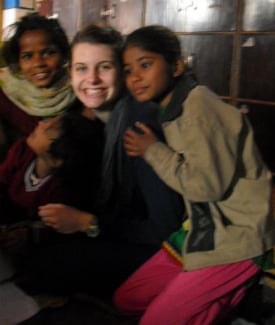 Why did you decide to go abroad with your provider?
Kady: I choose the provider due to meeting my future goals. I am very interested in world health and helping underserved communities. When I was introduced to Child Family Health International at a pre-med fair I knew I had to research more.
Where was your best photo taken and what was it of?
Kady: The best photo taken was a tie between in the homeless children's drop in center; all the children just hoped on me like a jungle gym to get in the picture. They just touched my heart.
My other favorite picture is an inside joke between the other intern and I. After people taking pictures of us, we started taking pictures of people taking pictures of us. It was funny to see the other people's faces when they realized what we were doing.
Tell us about an experience you had that you could not have had at home.
Kady: The best experience was SWACH, it is an organization in Chandigarh. The organization works with high risk HIV individuals. We interviews male and female sex workers and they asked us questions as well. We got the opportunity to report our findings to better the organization. They do so much for the community and really took us in.
At home learning about different multicultural populations I would not have gotten the knowledge I did here. For example, the female sex workers even though they are knowledgeable about safe sex practices they are not able to speak with their children about it. In addition, sex education is virtually forgotten in schools. Lastly, it is very important to educate the mother and father, as well as, the grandmother of rearing children properly, because they will all take part in caring for the infant.
Describe your favorite must-have food that you tried abroad.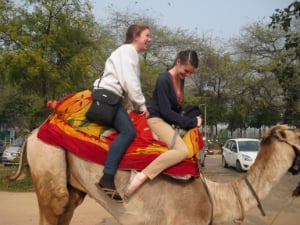 Kady: I have two favorite foods. My absolute favorite is butter chicken. It goes very well with the chickpea dhall. Everything is so amazing I recommend being open and trying everything.
Do you feel you got a chance to see the city from a local's perspective?
Kady: The whole program provides interns the ability to see in India from a local perspective. For starters you live with a local family and enjoy local cuisine, including noodles for breakfast. The transportation is through the metro system like a local. You get to push through lines and make sure you are getting off at the proper stop. You learn the ways around the city and get comfortable quickly.