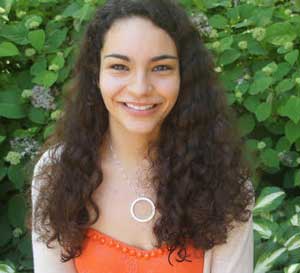 What made this study abroad experience unique and special?
Brittany: The main reasons I chose the IES Abroad program were because of all the class and center sponsored activities available, the variety of classes offered, and opportunity to study at local (and prestigious) universities. The center was in Delhi as well-a hub of all things new and old as well as a plethora of languages and cultures. When I looked at other Indian programs in other cities, the programs looked quite dull and enclosed, since not many of the activities and classes held were only through the study abroad centers with American students. I wanted to go outside of the classroom to learn, which IES allowed me to do.
For my socio-economics class, my classmates were engaged in interviews and research in villages in three separate states, which the program sponsored. Other music and dance classes had personal gurus and instructors to teach them in a traditional setting. For another course, people had to volunteer at a local organization multiple times a week, which gave them work experience as well as first hand knowledge of current events in the city.
What did IES Abroad do for you and what did you need to do on your own?

Brittany: IES planned all of our class trips around Delhi and throughout the country as well as social events at the center for guest speakers, Bollywood dance classes, and cooking classes. They also connected us with doctors and psychologists and offered to go with us on our first doctor visit. The staff helped us with the admission and registration process as well as any Foreign Registration Office processes that were required by being present and providing our all our paperwork (the process was less scary with them)!
As for our independent trips, we were responsible for planning our own, but we often got help from one of the staff members-Shobhit. He planned all of our IES trips and knew what places to visit, where to stay, and how to get there. He gave us plenty of advice and offered his help at any time. When most of our IES class wanted to go on a group vacation to Jaipur, he even helped plan it through his travel agent contacts. He booked our hotel and train tickets for us so that we could all stay together!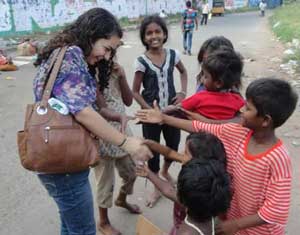 Do you feel you got a chance to see the city from a local's perspective?
Brittany: I feel that during my time in Delhi, I became completely immersed in the culture and daily life of a Delhiite. This was partially due to my own independence from the study abroad group. Most of the students in my group either attended classes at the University of Delhi or Jawaharlal Nehru University (I attended JNU), so we had plenty of opportunities to meet people our age and take classes in a college setting. I was able to make a lot of friends through other friends, so I was always out and about!
My host parents were pretty social as well, so I got to go on religious and family outings with them as well. From all of their advice and insight, I feel that I was prepared to handle all sorts of situations, understand the cultural cues, travel alone comfortably, and truly know Delhi from a Delhiite's perspective (all of the best restaurants and dhabas, bazaars, forgotten historical ruins, etc).
Describe your favorite must-have food that you tried abroad.
Brittany: I tried every food that I could get my hands on, so it's really hard to choose one! One of my fellow foodie friends and I used to go exploring different neighborhoods to try out recommended dhabas or restaurants.
One of my most memorable occurrences was at Chawla's Unique Chicken Corner in New Friends Colony, Delhi. It was a small dhaba in the middle of the Community Center market. I ordered the kali mirch murg (black pepper chicken), and it was absolutely divine. The white sauce was creamy and flavorful from the fresh pepper it was simmered in. I don't eat meat, but I decided to have some. It was very tender and tasty! I ate the sauce with rotis and was extremely full. I kept coming back to that place for the same lunch, and it never failed! It still makes my mouth water.