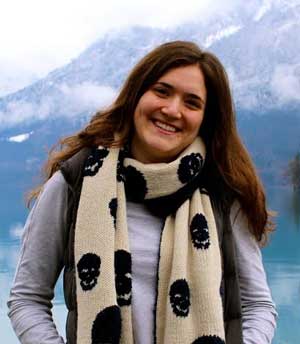 What did SAI Programs do for you and what did you need to do on your own?
Dani: Before coming abroad, SAI was very helpful with the student visa process. They spelled out, step-by-step, exactly what documents I needed to prepare and send to them. Then, they took care of the rest and a few weeks later my student visa was complete.
SAI also arranged housing for us. I live in an apartment with five other girls in the heart of Trastevere, which is a hip/trendy neighborhood in an amazing location in the heart of Rome. Once I got to Rome, SAI continued providing excellent service.
They guided us through our first week, making sure we were comfortable in our new city. For example, they welcomed us at the airport and provided shuttles to our apartments. Throughout the semester SAI is always accessible to help out with anything – whether it be giving advice on how to get tickets to a socce game or taking you to the doctor to translate and make sure you get the proper care.
Describe your favorite must-have food that you tried abroad.
Dani: Meeting friends for "Aperitivo" is a really fun way to socialize and to feel immersed in Italian culture. Most restaurants have Aperitivo in the evenings and you can order a drink and have access to a buffet of appetizers. This is a great way to catch up with friends and unwind from a long day amongst other Italians.
My friends and experienced our first Aperitivo when visiting Milan and we really enjoyed NOT feeling like tourists. Most tourists would just go for dinner, but the true Italians enjoy Aperitivo after work.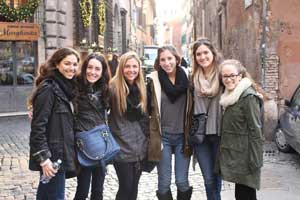 Tell us about any interesting cultural tidbits you noticed about your country.
Dani: Everything in Rome is done in moderation – at least compared to what I am used to at home in New York. For example, I was used to having a choice of small, medium, or large (sometimes even X-Large) cup for my coffee. But in Italy and around Europe, there is usually one size, and it's smaller than anything back home.
I actually found this refreshing because I appreciated every sip more and I am sure this is a much healthier way to consume caffeine. Along those same lines, I've learned to enjoy the social aspect of meals rather than rushing through to get to my next activity or class.
In restaurants, the waiter won't bring you the check until you ask for it as not to come off as rude (compared to New York where they rush you out as soon as you take your last bite). As a result, I find that my friends and I stay at dinner much later, just chatting long after we've finished our meals.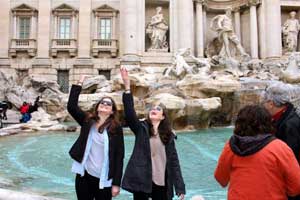 Did you forget to pack something important? Did you feel as if you were missing something?
Dani: I wish I had brought more clothes that are appropriate for warmer weather. Throughout the winter season, I had the appropriate clothing. During the coldest weeks, it was usually around 40 - 50 fahrenheit. But as Spring approached, the temperature even got into the 70s some days. So, I wish I had some more clothes and shoes that were comfortable for those hotter days.
Did you run into a language barrier? Did you ever think you knew more/less of the language?
Dani: I am really happy that I took Italian. Even though I was only in an introductory class and learning the basics, I felt comfortable ordering in restaurants or having broken conversations with taxi cab drivers. I could "get by" with what I had learned and enjoyed conversing with the local shop owners I interact with daily.
While it was tough at times, when my beginner level wasn't enough, for the most part the language barrier was not a problem. In the touristy areas most people speak some sort of English, EVERYONE speaks English at John Cabot University, and I never felt completely helpless from not being able to communicate.