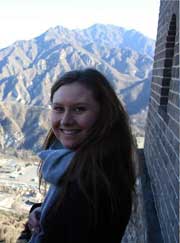 What made this ​​intern abroad experience unique and special?
Emilie: The opportunity to meet new people from so many different cultures is what made this experience special. The staff that worked in Shanghai is made up of the nicest people. Without them I know the experience wouldn't have been the same. They make it easier for you to see the city, and give you valuable information about the culture at arrival. What made my time abroad unique was the mix of experiencing the Chinese business culture, and at the same time meeting people from all over the world.
How has this experience impacted your future?
Emilie: I wanted to do this internship to get some practical knowledge about marketing before starting on my master degree. I ended up getting an experience that made me grow both personally and professionally. You learn how to adapt in a business situasion with different cultures, something that was very important for me.
Even though I didn't get the internship I wanted, the experience I gained has already been valuable. Because of this internship I got accepted to the master program that I wanted, and I have insight in some things that not everyone else has.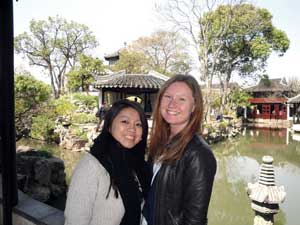 What was the best place you visited outside of your intern abroad city?
Emilie: Every place I visited was amazing. But if I had to choose it would be Wuzhen.
The water cities near Shanghai is so beautiful and it was interesting to see how people lived there. Also the fact that they where so different from each other.
Because of the fast train you can easily visit cities outside Shanghai. I tried to travel as often as possible. It's when you go outside the city that you really see the chinese culture, and you learn more about the people.
What is one piece of advice you'd give future ImmerQi students?
Emilie: Be open to the culture. The chinese people are different from what you are used to, and as long as you preper yourself, it won't be a problem. I loved getting to know the people. Even though some things was challenging, I realised that it's all about my attitude. And it ended up with me not wanting to leave Shanghai. And don't be afraid to try new things. The best experiences I got was when I went out of my comfort zone.