Why is language learning and cultural immersion is important to you?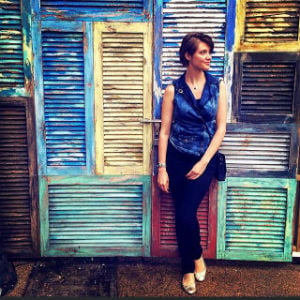 Asiya: Language knowledge is a bridge between people and cultures, both in every day life and in the business world. Knowing several languages has opened different doors and brought new opportunities into my life, helping me learn more about people and broadening my perspectives.
There is an intangible value in learning languages. Knowing English and Chinese helped me to integrate into the community, interact with local people as well as expats, understand the way others live… All of this is a big part of cultural immersion.
Did you study abroad?
Asiya: Yes, I did. I studied for two years, here, in Beijing. Discovering Asian culture, learning one of the most spoken languages in the world and challenging myself to experience something totally new inspired me to go to China. This experience has really enriched my life.
What was your favorite travelling experience?
Asiya: I see travelling as a unique opportunity to grow and be inspired. It is a way to reflect on your life and bring something new and exciting to it. One of my favorite travelling experiences was a recent trip to Seoul, Korea.
I found that the people, architecture, way of life had distinctively unique Asian features, but that you could still feel a heavy western influence on the place. This makes Korea a fascinating country to explore.
What country have you always wanted to visit?
Asiya: One of the top places on my to-do list is Cambodia. I find Cambodia's history and temples extremely interesting and mystical. The beauty of the nature there also appeals to me a lot.