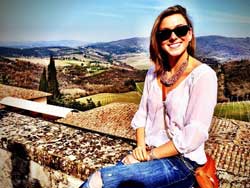 What was the best place you visited outside of your study abroad city?
Lindsey: The best place I visited outside of Florence would definitely be Cinque Terre. I was lucky enough to visit twice, once with my family and another with my roommate. My favorite part of Cinque Terre was hiking and exploring all of the adorable villages.
It is amazing because there are a couple ways to see the five villages. You can take a couple days and hike the paths or take the ferry. Either are great because you get to see Cinque Terre from many unbelievable views.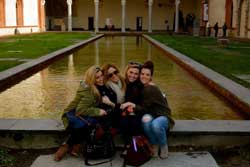 What is one piece of advice you'd give future SAI students?
Lindsey: I believe it is really important for students to stay in their study abroad city for at least a couple weekends. Once you arrive, you immediately want to start booking all of your weekend trips to see as much of Europe as possible in those four short months.
Although I think that taking advantage of your location and opportunity is amazing, I am so thankful I took a couple weekends off and explored Florence. I got to see and explore a lot more on the weekends and found cute/hidden places that I would never would have had the chance to see!
Describe your favorite must-have food that you tried abroad.
Lindsey: It is literally impossible to pick one must-have food in Florence because everything is amazing! Although, I would have to say my favorite place to go was the Central Market.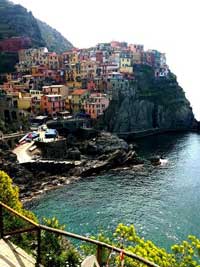 It is about a five minute walk from the Duomo and is unreal. It is recently renovated and was one of the best places to go. If you ever make it to Florence, the Central Market is a must!
What made this study abroad experience unique and special?
Lindsey: There is an endless list as to what made my experience so amazing, but my roommates are definitely at the top. I was randomly placed in an apartment with three other girls that were amazing.
Do not think you have to go into study abroad with a best friend from school or home, because you will come out of the experience with a couple new ones too! Another reason why my experience was so amazing was Florence itself. I fell in love with the city since the moment I arrived and after every place I travelled to, I still pick Florence as my favorite!