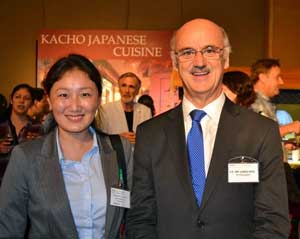 Tell us about an experience you had that you could not have had at home
Zaya: In Mongolia, I was always within my comfort zone. I was protected by my parents. I never had to deal with language barrier and getting lost in places. On the other hand, when I am in Thailand, I have to learn to be independent and adaptable. I realized I am no longer under my parents' protection. Doing an internship here teaches me the importance of communication and adaptability.
Practicing these two skills allows me to continuously learn something new from my colleagues, and from new people I have met at networking events. I am a really curious person; I enjoy asking questions and listening to other people's stories. This experience makes me happy and excited about my next adventure.
As a marketing and creative designer, I always look for innovative ideas. Being in a fast developing place like Bangkok, the people and its unique culture often inspired me to generate new ideas.
Why did you decide to intern abroad with the Asia Internship Programme?
Zaya: My major is IT; however, I have a passion to work in graphic design, and at the same time I discovered my interest in marketing during my internship.
:During my third semester at Stamford, I didn't have to take any classes. Thus, I have a lot of free time, which I think it would be productive for me to find an internship. Nevertheless, I cannot speak Thai, which made it harder for me to get marketing internship at Bangkok.
Nevertheless, I typed "Internship in Asia" onto the search bar, and that is when I found the link to "Asia Internship Programme". I chose AIP because of its affordable offers. It provides internship opportunities for international students who want to have a working experience in Southeast Asia. AIP understands my needs and placed me to Broadgate Financial.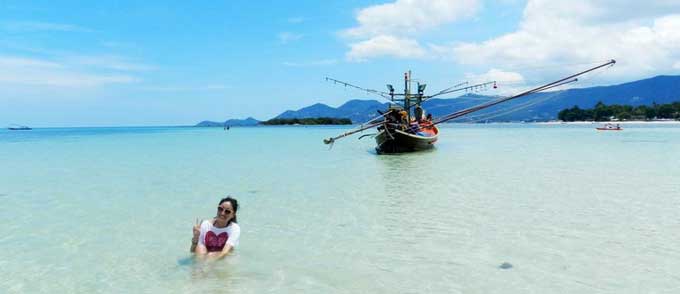 What was the best place you visited outside of your intern abroad city?
Zaya: We went to Kanchanaburi, Kho Phangan and Kho Samui as my colleagues and I celebrated Christmas together. The best place to visit outside of Bangkok was Kho Samui. It was such a beautiful island, especially for me who came over from a landlocked country. Kho Samui was like a dream world. It was the crystal blue ocean, along with the warm white sands. I was mesmerized by the atmosphere when I lay down under the palm trees and drinking my coconut juice.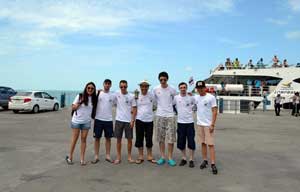 What did Asia Internship Programme do for you and what did you need to do on your own?
Zaya: AIP leads me to discover what it is like to work in the marketing field. I am treated as an actual employee at Broadgate and they allow me to apply my knowledge in the marketing field. I was working on 2 websites' design and development, company banners, company brochures, video editing, and marketing plan. Not being able to speak Thai was not an issue at Broadgate Financial. Also, the most enjoyable experience for me was the networking events such as Australian – Thai Chambers event, STCC, and so on.
Do you feel you got a chance to see the city from a local's perspective?
Zaya: Yes I do. I think it is importance to go local when you visit Bangkok. It order to really understand the culture, one needs to explore the streets in Bangkok. Everything can be found in the street. People eat, drink, have fun, and mingle on the street. Thailand is truly the land of smiles. Although I am not Thai, I was always very accepted by the Thai people. People here are extremely friendly, so I was never afraid to talk to and ask help from my surroundings.
Another cultural aspect that one should not miss is the floating market. There are countless of foods. Every boat sells different foods, clothes, accessories, and many more. The experience of shopping and eating on a boat was extraordinary.