Internship in Thailand by Asia Internship Program
Location
Thailand

Bangkok
Pattaya
Chiang Mai
Phuket
View Other Details

Program Details

Timeframe

Summer

Year Round

Qualifications

English Proficiency: You should have a B1 level or higher in English as per the Common European Framework of Reference for Languages (CEFR).
Passport Validity: Your passport should have at least 6 months of validity from your intended start date of the internship.
Internship Enthusiasm: A strong willingness and enthusiasm to undertake an internship abroad and embrace a new culture and professional environment.

Pricing

Price Details

The indicated starting price refers to the Explorer program, applicable to all durations. During your application, you will select the program that suits your needs and its duration - the final price will vary based on these choices. Here are the programs we offer:

Explorer: Custom internship, 24/7 assistance, visa support, CV enhancement, career consultation, certification from host company.

Traveler: Includes all Explorer benefits, plus shared accommodation, airport pickup, and pre-arrival orientation.

Settler: Includes all Explorer benefits, plus private accommodation, airport pickup, first day drop-off, SIM card, transport card, and tours.

Please note that internships might be unpaid due to overseas regulations.

What's Included

Accommodation

Activities

Airport Transfers

SIM cards

Transportation

Visa

Wifi

What's Included (Extra)

Round-the-clock Assistance
Comprehensive Visa Assistance
Certification upon Internship Completion
First Day Work Drop-off Service
Guided Tours of the Host Country

What's Not Included

Airfare
44 travelers are looking at this program
Known for its vibrant culture and stunning natural beauty, Thailand provides a stimulating setting for business and educational growth. With its secure environment and warm hospitality, this country offers a captivating backdrop for interns.
Asia Internship Program (AIP) grants you a golden opportunity to delve into the dynamic sectors of Thailand. Be it multinational corporations, local startups, or NGOs, AIP customizes your internship, allowing you to experience the allure of the Land of Smiles.
Embark on your journey with AIP to a world rich in opportunities. Remember, the first step to your future starts with a single decision!
Program Highlights
Tailored Internship Placements: AIP excels in curating internship experiences that align with your career aspirations and personal interests, allowing you to make the most out of your time in Thailand.
Global Exposure: Our internships provide a unique opportunity to work and learn in a multicultural environment, fostering cross-cultural understanding and global perspectives.
Industry Immersion: With a wide range of industries available, from Technology and Finance to Art & Fashion, you'll be immersed in the industry of your choice, gaining first-hand experience and practical skills.
Holistic Support: From comprehensive CV enhancement to visa assistance, AIP ensures a seamless and enriching experience. Even in an emergency, we're available 24/7 to ensure your safety and well-being.
Cultural Exploration: Besides professional growth, we value cultural immersion. Through organized social activities and trips, you'll get to explore Thailand's vibrant culture, heritage, and landscapes.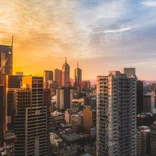 Thailand's expanding economic scape has enabled local and foreign investors to explore multiple creative business endeavors across all fields, including but not limited to: food & beverages; tourism & hospitality; and engineering. Due to its international recognition as one of the most infamous tourist hotspot in the Asia-Pacific region, Thailand's creative and business industries are expected to continue to grow and prosper even in years to come.