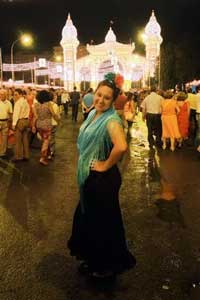 What is one piece of advice you'd give future Spanish Studies Abroad students?
Alejandra: Perhaps one of the best pieces of advice that I could give anyone doing the Spanish Studies Abroad Program, or any study abroad program would be to not be afraid of getting out of their comfort zone and meeting new people.
I didn't know anyone from my program prior to arriving in Spain. It should go without saying, but I was absolutely terrified! I made some great friends there from all over the United States and distinct backgrounds, who I still continue to stay in touch with.
Tell us about an experience you had that you could not have had at home.
Alejandra: My entire time in Sevilla was filled with once in a lifetime opportunities, but one that I will never forget is experiencing "La Feria de Abril." This is a big annual celebration for them. It is a weeklong and very traditional.
Most of the women wear Flamenco dresses and the men wear suits and ties. This is an event that goes on during almost all 24 hours of the day with horse carriage watching by day and dancing by night. It has a carnival setting which includes both privately and publicly owned tents. Each tent is a party of its own with music and dancing during the evening leading up to the following morning.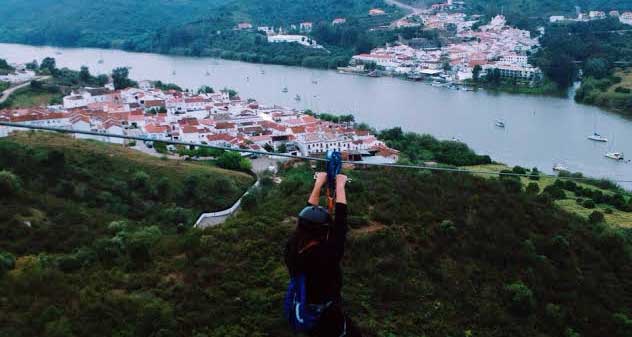 What was the best place you visited outside of your study abroad city?
Alejandra: I was fortunate to be able to do some traveling outside of my host city. We only had classes Monday through Thursday which gave the perfect amount of time for weekend travel. Although I loved every city that I visited, I would have to say that Lisbon, Portugal was one of my favorites.
Lisbon is just an underrated city and deserves more attention than what it receives, but perhaps it is that which made it so special. Lisbon was absolutely breathtaking and unlike in other cities which are packed with tourists, I felt like I was actually able to appreciate all of its beauty and uniqueness.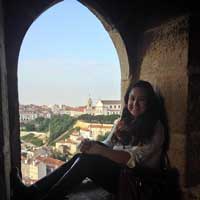 Describe a goal you set and how you went about accomplishing it.
Alejandra: There were many things that I hoped to be able to accomplish during my time abroad. One of them was to get out of my comfort zone and do something 'crazy.' I had no idea what, until I heard about the only international zip line in the world. It just happened to run between Spain and Portugal! I was already in Spain, so how hard could it be to find, right? Wrong. It turned out that it was a couple of hours away and not accessible with public transportation.
After talking to some friends about it discussing our options we decided to rent a car and take a road trip. After taking a few wrong turns and getting lost for several hours, we made it to our destination! It took us 4 hours to get there instead of 2 but we did not panic. We got to zip line from Spain into Portugal and it was absolutely amazing! Zip lining itself isn't too crazy but being that we were in a foreign country in which we did not know the roads or the rules of the road, I'd say I accomplished my goal of doing something crazy.