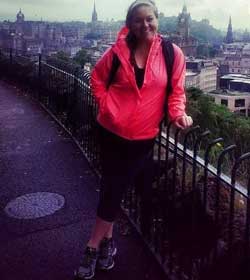 How has this experience impacted your future?
LeAnn: Academically speaking, this internship was beyond the classroom. I was learning tools that I would not have been able to learn by simply sitting in lectures or being tested over. It challenged me to work in an environment I was unfamiliar with and working on subjects I was not an expert on. Everyday was a challenge, but it was attainable.
Professionally, the internship makes me standout. Not very many people can say they have been to Scotland and completed an internship. It makes me unique. Personally it has made me more independent. It has shown me strengths that I did not know I had, and it also showed me places I still need to improve on. It has truly changed me into a better person all around.
What is one piece of advice you'd give future Adelante students?
LeAnn: Do not be afraid to have adventures on your own. I feel as though we think we always need someone to be around us all the time. It is great to go on solo adventures; it helps you find your true self. What better way to get to know you by being in a foreign country surrounded with people you have never met? It can be scary, but it is a feeling and experience you will remember forever.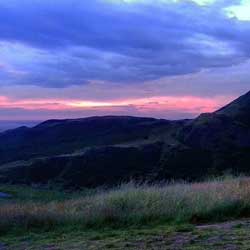 Where was your best photo taken and what was it of?
LeAnn: The best photo I took was on top of one of the hills by King Arthur's Seat. I decided to get up really early before my internship started and go for a run by myself. I ran for about 45 minutes before I reached the top. But once I had the view of the sunrise, the ocean, and the city of Edinburgh below me it made the run very memorable.
I just remember sitting there thinking, " Holy cow, I can't believe I actual did this." Being in an unfamiliar area without anyone you know around you can be scary, however, I never felt alone. It was really a great feeling. A feeling of independence, strength, and confidence were all mixed together. That moment will stick with me forever.
If you could do-over one thing, what would it be?
LeAnn: One thing I would do- over is ditched my phone more. It is important to stay in contact with people from home to let them know you are okay, but you will come to realize it is nice to not have the constant contact. I took my phone with me, but could not use texting or social media without wifi.
Wifi did not surround me 24/7 like it tends to in the States. Sometimes I would stress about not having wifi around me all the time, but the more I went without it the less I stressed. It is important to set the phone aside and just go out for an adventure. You do not need to constantly Facebook update, Tweet, or Instagram every little thing you do all the time.
My motto was I would take pictures while I am out, but I won't upload until the end of the week. That way I was not always trying to find wifi and tell everyone where I was at right at that moment instead of enjoying my surroundings. Also, it was a great way to meet people. Instead of Google mapping everything, it was fun to ask locals for directions. Sometimes I would even ditch my original plan because I met a local who told me an even better place to go!