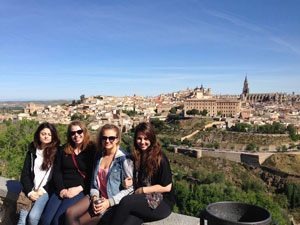 Why did you decide to intern abroad with The Intern Group?
Julia: As part of my degree, we are required to spend a year in a country where they speak the language we study either doing Erasmus, British Council or working.
I had just completed an Erasmus placement and I really did not find it useful at all, the teachers and Spanish students didn't pay attention since you were only there a term and so in the end I ended up spending 4 months hanging out with English people.
Therefore, I was keen to find a job, however the only positions I could find were for teaching or translating, which I had no interest in, so I turned to Intern Madrid help me with the search.
I am so glad I did as they found me an amazing internship where I was given a lot of responsibility and learnt a lot – without Intern Madrid I would have never been able to find such a great internship.
Where was your best photo taken and what was it of?
Julia: My favorite photo is of the Tio Pepe sign in Puerta de Sol. It is just such a typical Spanish symbol, and reminds me of the amazing evenings spent strolling around Sol – one of the liveliest areas of Madrid. Sol for me represents the spirit of Madrid, busy, exciting, entertaining, relaxed, friendly, as well as being the centre of the city.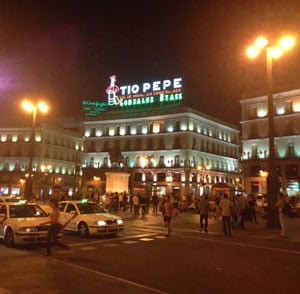 What is one piece of advice you'd give future The Intern Group students?
Julia: My advice to Intern Madrid students would be to take advantage of everything the program offers, even when you feel too tired to go on that excursion, make the effort.
It's the best way to bond with the other students on the program and to see all that Madrid can offer – but be warned Madrid requires a lot of energy, its not called La noche madrileña for nothing!
How has this experience impacted your future?
Julia: The program offered me not only an amazing internship, but a the best platform to get the most out of living in Madrid. The job gave me an enormous confidence boost and made me realize that marketing is definitely the career path for me. The social side of the program ensured that there was a group of people to do things with, which is particularly important in Madrid as it is such a sociable city.
I now have friends from all over the world and have met up with several of them in London, and am even going to America to visit another student. The program offers you invaluable work experience and opens your horizons as you come interact not only with locals, but students from all corners of the globe.