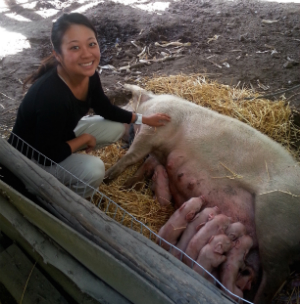 Why did you pick this program?
Tobi: Originally, I had my heart set on Pacific Discovery's New Zealand program. The volunteer portion was heavy on environmental conservation, which was my first love/major. I had to reconsider my choice when I was notified that the program might not be going. I ended up picking the Ecuador and Galapagos program, which matched my second love/major: anthropology.
I'm pretty sure that any anthropology major would die if they had the chance to visit the Galapagos to see where Charles Darwin did a lot of his work. The volunteer portion also focused on working with people and for people which matches my third and current love/major: nursing. Yeah, I know. I've change majors a lot. The Ecuador and Galapagos program was a better fit for my interests and I was beyond happy with my choice.
What was the hardest part about going abroad?
Tobi: Trying not to over pack and failing. I love being prepared, so naturally, I wanted to pack everything. In reality, I could've made it with the bare minimum (regarding clothes). In the end, you'll just want whatever is comfortable and whatever gets the job done. Versatile clothes are amazing and eliminate need. It's also a pain to lug all that stuff around. You don't need a lot of variety because no one is even thinking about fashion. I know we must've been looking like a mess, but I can't even recall a single outfit any of my group members wore, so don't sweat it.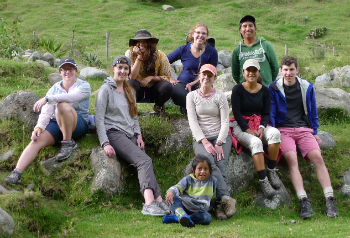 What's your favorite story to tell about your time abroad?
Tobi: Way too many stories, but here are a few short ones. 1) While we were in the village, the family's sow gave birth. So we woke up to a bunch of piglets. They were so soft and fuzzy and warm and cute! 2) Being in Ecuador while they were playing in the World Cup was amazing. We'd always try to find a TV when a game was on. Some of us even bought jerseys. 3) The whole group got upgraded to first class when flying into the islands. 4) We spent the 4th of July at a bar on the beach slack lining, playing volleyball, drinking, and playing with a puppy.
What is one piece of advice you'd give to someone going on your program?
Tobi: Don't be afraid to use the language. Step out of your comfort zone. Just put yourself out there. Literally, no one will care if you make a mistake. People will be glad you made the effort. Don't always rely on the group members that are better with the language than you are. Ask them how to say something and then go say it instead of having them speak for you.
What made this trip meaningful to you, or how did this trip change your perceptions or future path?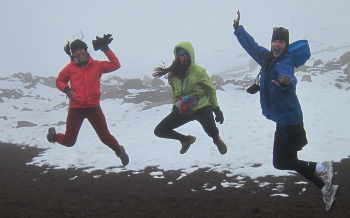 Tobi: The volunteer portion of the program was more meaningful to me than I had anticipated it being. It was very rewarding working with and helping the people, but it was their kindness, gratitude, and generosity that affected me the most. It inspired me to dedicate a portion of my time to volunteer every time I travel.
What are some things you brought that you found handy?
Tobi:Raincoat, waterproof camera, hat (baseball cap), sun glasses, a book, music, sunscreen, aloe vera for sunburns, and bug repellant.