What position do you hold at Pacific Discovery? What has been your career path so far?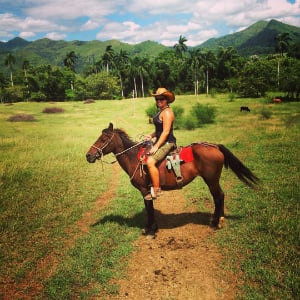 I currently work as a Program Leader and Program Coordinator for our Latin American programs. Before landing a job with PD, I was leading high school programs for Walking Tree Travel but I was ready to lead programs with a slightly older age group. I also love what I do and wanted to be on the road running and developing programs full time. Pacific Discovery has given me the opportunity to do all of this and helped me become a more experienced and skilled leader.
Why is language learning and cultural immersion important to you?
My ability to speak Spanish has changed my life. Knowing a second language is more than just being able to navigate a new place. I think before one knows a second language, language is perceived as merely a tool for communication. As you truly immerse yourself in a second language, however, one realizes that language is an active agent in developing and influencing culture, relationships and perspectives. Through Spanish I've developed some of the most important relationships I've ever had, greatly enhanced my understanding of the cultures of Latin America, expanded my ability to think critically, and ultimately enriched my perspectives on the world.
What does the future hold for Pacific Discovery - any exciting new programs to share?
Yes! I recently spent a month in Cuba to set up our first summer program there, which is scheduled to run in June. I'm really excited to lead a program that embraces the island's unique geography and beauty while teaching participants about it's complex history and precarious future—it really delves beyond the touristy surface that most Cuba trips entail. We're also looking to set up a Central America Semester within the next year or two, and I'm really looking forward to being a part of its development.
Why is language learning and cultural immersion important to you?
We often think of language as merely a method of communication. One could spend years learning Spanish in a classroom and analyzing the grammar and syntax, never moving beyond the technicalities. I love all the grammatical aspects of learning a language, but after living in Spain and being entirely immersed in Spanish culture, I realized how language is an extension of the culture and the various dialects and lexicons are an important part of its history and what makes its people tick. Becoming fluent in Spanish has opened so many doors for me and enabled me to make connections and develop relationships that would not be nearly as strong if I only spoke English. Learning a second language, or even a third, opens your mind—you look at something like a chair, and now know it as a "silla" and a "chaise" and a "sedia". It enables you to embrace other perspectives, not only linguistically but culturally and in turn become more globally aware.
How have you changed/grown since working for your current company?
The owners of Pacific Discovery, Scott and Rachel, are really devoted to making the world a better place via experiential education and they have set up an amazing and professional support system for their Program Leaders. Since I started working for Pacific Discovery, I've been pushed to constantly be a stronger leader and to consistently grow into a better version of myself. I've got certified as a Wilderness First Responder, which has given me a great deal more confidence than my previous basic First Aid/CPR training and has proven truly invaluable when traveling "off the beaten path" with a group. I've also developed beautiful relationships with other tour guides, host families and all the lovely people I've met along the way—people who I am constantly learning from and who, in turn, continually help me to grow.