Did YOU volunteer abroad? If so, where and what inspired you to go?
After college, I served as a Peace Corps volunteer for three years. That was my first time going abroad. I liked volunteering in my local community and this inspired me to go to learn more about the world and how I might be able to help people in other places.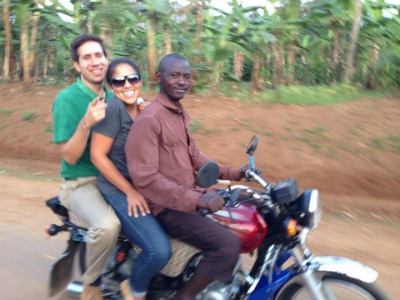 What is your favorite volunteer abroad memory?
My favorite memories from working in Uganda were the down time with volunteers and staff. Without power and cell phone distractions, the volunteers and I all had time to get to know each other really well (maybe pull the occasional prank or two) and I still keep in touch with many of the volunteers and staff today! Some have used me for a job reference and others have just come to visit for a weekend of reminiscing. The staff and other community members opened their homes to me and I got to share stories, food, and games with their families. Those are stories I will be sharing with my children and grandchildren.
What does the future hold for FIMRC - any exciting new programs to share?
With the help of the 30/30 Project and Construction for Change, we are opening a new clinic in Uganda to better serve our patients!
Which volunteer abroad destination is most underrated? Conversely, which is most overrated?
I feel volunteer programs with total community immersion like Project Bumwalukani, Uganda are underrated.
To live in a remote village, walk to school with the local children, eat the local food, and shop in the local markets is an experience that is humbling and exhilarating at the same time.
Those small things I have grown to cherish more than any vacation I have ever been on. It also is a great way to disconnect, take in the sunset, and appreciate the stars.
Why is language learning and cultural immersion important to you?
Leaning Lugisu, the local language in Bududa, was a key factor in building trust for me. I was able to haggle prices, give directions, and formally introduce myself and greet professionals at meetings. It showed that, while everyone spoke amazing English, I was also there to learn. And what better way to encourage others to step out of their comfort zones and not to be afraid of making mistakes than to stumble along in the first months of a new language. I was the butt of a few jokes, but the laughter made it all worth it.
Describe a time when you felt especially proud to be part of the FIMRC team.
We have the most talented staff and the top rated health center in our district, and what made me proudest of our FIMRC team was their positive attitudes towards their jobs and a desire to do better. In an industry that can be corrupt (in any country), our staff members choose to work as a team in support of each other instead of just looking out for themselves and watching the clock. From my experience working in the USA and abroad, that authentic team work energy is rare. The tone is definitely set by FIMRC headquarters, and the staff on the ground are following through every day.