What is your favorite travel memory?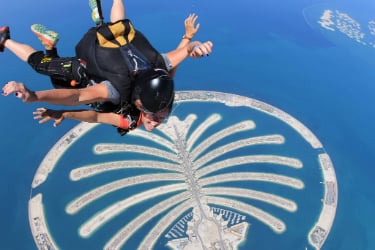 There are so many! It's hard to choose a favorite. I've been lucky enough to have so many "once-in-a-lifetime" trips thanks to jet-setting parents who continue to inspire my wanderlust. I guess a few favorite memories that come to mind are riding in a rickshaw in the streets of Chennai, eating street food in Istanbul, spending 12 nights camping in the Himalayas, watching the summer Olympic games in Beijing and watching the sunrise over the rim of Colca Canyon.
Which destination is most underrated? Conversely, which is most overrated?
I think Bolivia (and South America more generally) is totally underrated. A lot of foreigners don't know anything about Bolivia, especially compared to their neighbors Peru & Brazil. Bolivian people are so proud and excited to have foreigners visit and I had some really interesting conversations there. Plus, Bolivia has a ton of interesting sights to visit like the Salar de Uyuni and the humming energy of La Paz.
Most overrated I guess would be the Pyramids of Giza. They're exactly how they are in pictures, and once you appreciate the size and age of them, there isn't much else to see or do at the site. Considering its one of the main attractions that brings people to Egypt, I thought they were a bit of a let-down. Abu Simbel and the Valley of the Kings were much more impressive to me.
What do you believe to be the biggest factor in being a successful company?
I think the biggest factor in a successful company is hiring the right people. Workplace culture is so so important! I'm lucky to work at an organization like Greenheart Travel, because I am surrounded by dedicated, passionate and hard-working people who are 100% committed to the programs they manage while also striving live the traveling lifestyle. It's so awesome coming to work every day with people I genuinely like and respect.
What unique qualities does your company possess?
What I think is really unique about Greenheart Travel is that we curate a personalized experience for each of our participants rooted in transparency, support and trust. Each program manager here finds joy in getting to know our participants, and we genuinely get excited when people post pictures from their programs. I've actually huddled around a coworker's computer to look through participants' Facebook albums or Instagram feed!
We're all travelers ourselves, so we care about each of our participants having a positive and transformative experience abroad. It's fun to see people loving their time abroad!
What is the best story you've heard from a return student?
Oh man, there are so many. This is the most rewarding part of my job! There are so many stories of transformation, introspection, personal development and cultural awareness. Seeing participants come home and share their experiences keeps me inspired as a traveler and as a program manager. I guess the best stories are the ones of struggles overcame. Traveling is often challenging, and it's something we don't like to talk about on social media. leaving viewers with an unfinished picture of what living abroad is actually like. So when I hear stories from returning students about how they dealt with adversity and came out better on the other side, I feel like a proud mama! Growth is what travel is all about.