What position do you hold at Greenheart Travel? What inspired you to join their team?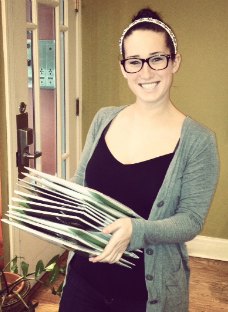 Sara: I am the Teach and Work Abroad Programs Manager at Greenheart Travel, and I started as an intern here back in January, 2011!
I returned from teaching English in South Korea that August and was inspired by my experience abroad. I've traveled my whole life, and it's a huge part of who I am, so I knew I wanted to stay in the cultural exchange industry.
I think the best part of my job is staying in touch with participants who are abroad or getting back in touch with them when they're ready for their next adventure.
Seeing the amazing transformations people make from being extremely scared and culture shocked at the beginning, to really feeling comfortable in a foreign country is incredibly rewarding.
Being forced out of my comfort zone in Korea was one of the hardest, but best things I've ever done, and getting to watch others realize the same thing is the best part of my job.
What makes this Teach English in Colombia program so unique?
Sara: We always have so many people asking us about teaching English in South America and it has such a wide appeal, but there aren't very many government sponsored or organized Teach Abroad programs there.
For most people, they end up booking a one-way flight and just finding a job once they're on the ground, which can take a lot of time and some major guts too.
This program is different because, well, it's a program! It offers the support, guidance, and a job BEFORE you get there – which is very rare in South America.
The program also includes a 3 week orientation upon arrival so not only are you picked up at the airport, but you get to spend 3 weeks with all of the other arriving teachers and make immediate connections and friends who will be placed throughout the country.
What will most participants come away with at the end of the experience?
Sara: Colombia is a country plagued with stereotypes about drugs and violence. I think the biggest thing people will come away with is just how welcoming and amazing this country is, and how much has changed there over the past 10 years or so.
Sending teachers to Colombia will hopefully help shatter these stereotypes and not only teach the Colombian students about our cultures, but bring Colombian culture into the eyes of our friends and families back home as well.
Colombia has some incredible corners to explore. Tell us about some of the sights.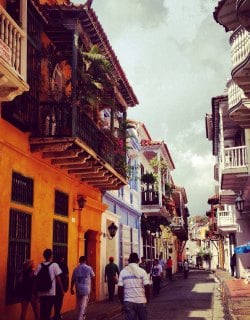 Sara: I was in Colombia last May on vacation and spent time in Bogotá and Cartagena, both of which are cities we will be placing teachers in.
Bogotá is a huge city and there are hundreds of neighborhoods to explore. My favorite place in Bogotá was the Museo Botero, which has hundreds of paintings and sculptures from one of Colombia's most famous men, Fernando Botero, as well as some from Picasso and Dali.
Cartagena's old city is a photographer's paradise and it's hard to put down your camera while you're there. It's an incredibly charming city, brimming with color and activity.
I also spent a day at Volcan Totumo, which is a pretty big tourist attraction, but was a lot of fun. It's an active mud volcano right outside Caratgena that you can hop right into and enjoy the supposed healing powers of the mud.
There is way more to see though so I have to go back soon! If you want to see more pics from my trip you can check out a feature on our blog here.
What types of candidates are best suited for this program?
Sara: I would say that this program is a little more adventurous than others in the sense that Colombia hasn't been on the "tourist" radar for very long and it is definitely a developing country.
We're looking for people who have a real passion for cultural exchange and are excited to live in a culture extremely different than their own. Ideal candidate will be adventurous, open-minded, flexible, and willing to "roll with the punches."
We're also looking for applicants with a real purpose and drive to teach ESL. While any of our programs should be fun, we also want candidates who will take this job seriously and remember that it is a job – not just a chance to travel.