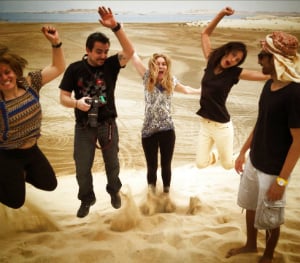 What position do you hold at IES Abroad? What has been your career path so far?
I am a College Relations Manager at IES Abroad, based in Chicago, Illinois. I am the IES Abroad Representative for colleges and universities in Indiana, Kentucky, and Western Ohio. In addition to working with staff and faculty at schools in my region, I work with prospective students at these schools, helping them navigate their study abroad options and find the best fit for their educational and experiential goals. I also advise IES Abroad students before departure to help them prepare for their overseas programs.
Before joining IES Abroad in April 2015, I was working in international education at Northwestern University in Evanston, Illinois, where I supported Northwestern's overseas campus in Qatar. After completing my bachelor's degree in Global Studies and studying abroad in Ukraine, I pursued a career in international educational upon moving to Chicago. My own experiences abroad and exposure to global affairs in the classroom had such a powerful impact on my life and my career trajectory. I knew I wanted to work in international education and help to create those international experiential opportunities for future students.
What was your favorite traveling experience?
In 2012, I was incredibly fortunate to be asked to co-lead a group of students from Northwestern University's Qatar campus on a service learning trip to India. I had become increasingly curious about India and wanted to visit for some time because a friend of mine had spent substantial time living and traveling through India and always spoke of the amazing people and experiences he had there.
During my visit in 2012, I finally got a glimpse of the world he always talked about. The service learning aspect of the experience brought to life the people and culture of India in a way that simple travel is not always able to do. For a week, in a poverty-stricken community in New Dehli, the students served as teachers and friends to elementary-age children, teaching words in English, playing games, singing songs, dancing, and creating art projects. By the time we had to leave, the student teachers were in tears—in just a week, they had become very close to these young learners, and it was incredible to witness.
As a long-time lover of Indian cuisine, I also have to mention the food! India is mostly vegetarian, which I am not, but that didn't prevent me from tasting some of the most wonderful Indian dishes I've ever had. The sights were also amazing: seeing the Taj Mahal was truly breathtaking. Of all the great experiences I had in India, what truly made this experience the most memorable, was witnessing and being a part of the student experience abroad. I recall my own experience and what it was like to be a student abroad, but there is something amazing about growing up and being able to experience it a second time. As a group leader this time, I had a different appreciation for how powerful the experience can be, and I got to be a part of shaping that experience for these students. I've stayed in touch with several students who participated and they still credit their service learning experience in India as one of the most life-changing they've ever had.
What language have you always wanted to learn and why​?
Definitely Spanish! I went to high school in a small town where Spanish was the only foreign language offered. At that time, I took several semesters of the language, but stopped when I entered college. I soon learned to regret that decision!
At the University of Minnesota, I had access to more than 60 languages. Overwhelmed and excited by all the cool language options, I chose Russian. I took several years of the language, but ultimately ended my college career far from proficiency. Unfortunately, I have had little opportunity to use the language since.
After moving to Chicago, I met my now husband who is from Mexico. His primary language is Spanish and now it's more important to me than ever to learn the language. I hope to soon enroll in a Spanish language course in Chicago. In the meantime, I practice with my husband, use the Duolingo app on my iPhone, read and listen to Spanish whenever I can, and observe conversations in Spanish as much as possible. I also try to speak a little Spanish with other Spanish speakers in Chicago, but I am still working on that part! Moral of the story: It's never too late to learn a language!
What is the best story you've heard from a return student?​
During a study abroad fair in Fall 2015, I had the pleasure of meeting an incredibly enthusiastic student from Wittenberg College in Ohio. She studied abroad on IES Abroad's Buenos Aires Program in Spring 2015. This student had opted to do an internship as part of her study program. She was able to work at an organization in Buenos Aires in the Communications field, which was her field of interest.
She shared such wonderful experiences she had during the whole program, but she said her internship was especially impactful because it improved her language skills and gave her amazing work experience. They gave her a high level of responsibility, which she wasn't expecting, and even told her that they would hire her full-time if she ever chose to return to Buenos Aires after graduation! How cool!
I highly recommend that students do an internship while abroad. An internship is such a unique opportunity to gain work experience—and academic credit—while abroad. IES Abroad has been providing part-time internships as part of its academic programming for 45 years! Our Centers abroad have established amazing networks of organizations and businesses in our program locations and our students have access to these networks! I can speak from experience: having international work experience on your résumé is invaluable to future employers, and it is a way for students to set themselves apart from other applicants when applying in a competitive job market.