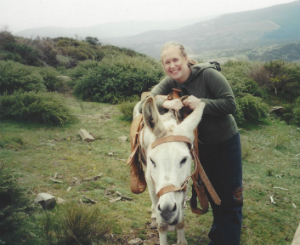 What position do you hold at IES Abroad? What has been your career path so far?
I work as a College Relations Manager, which means that I help students to decide which study abroad program is best for them. I work closely with study abroad advisors in Pennsylvania and New Jersey to help them learn more about IES Abroad programs and to resolve any problems that come up. Another part of my job is to help students prepare to study abroad in Rome, Italy.
Since high school, I knew that I wanted to have a job that focused internationally, but I never suspected that I would work in study abroad. After graduation, I really wanted to work on human rights issues, but I ended up getting hired by an organization that assisted students from the Middle East who were studying in the United States. Seeing the impact that these students were having on their American communities changed my life forever. From that moment on, I knew that I wanted to help to connect people from different cultures!
Did YOU study abroad?! If so, where and what inspired you to go?
My Aunt Anne inspired me to study abroad by telling me all about her adventures studying in France and Greece. I knew when I was picking colleges that I wanted to go to a school that was supportive of it. Ultimately, I chose to study at The George Washington University (GW) in Washington, D.C., and I studied on GW's Madrid program. Initially, I had been planning to study abroad with a couple of my friends, but they didn't end up going. I was super nervous to study abroad alone, but now I'm so glad that I followed through with my plan. Looking back, I don't think that I would have gained the independence and self confidence that I did if I had gone with people that I knew. Plus, I made great new friends!
What is your favorite study abroad memory?
One weekend, my friends and I decided to visit Lisbon, Portugal. We were walking down the street, and I saw a friend from college walking in the opposite direction. I was so surprised and excited to run into him. That night, we joined his friends at a family-style Moroccan restaurant. We shared an incredible meal (including orange slices covered in cinnamon) and laughed and told stories into the night. It reminded me that it really is a small world.
What country have you always wanted to visit?
Morocco! Ever since I worked with Moroccan students who were studying in the United States, I've been wishing and hoping to go. I'm obsessed with the idea of seeing the mosaics (called Zellige) and the spice markets. And, I'm super jealous of the excursion that the IES Abroad Rabat students take through the Sahara Desert. I can't imagine what it must feel like to be in such an open, empty space.
What's your favorite ethnic dish?
Ceviche. Initially, I thought that it was pretty weird to eat raw fish on crackers, but now I can't get enough! When my husband and I were visiting Cartagena, Colombia, on vacation a few years ago, we ate ceviche for lunch and dinner for almost a full week!