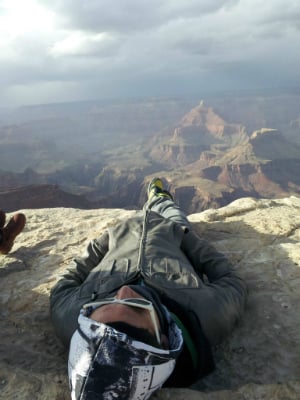 What is your favorite travel memory?
I have too many favorite travel memories...from Snowboarding in Vermont, shopping in Japan, or just enjoying the local food of the countries I have visited. My most memorable experience abroad however is visiting the Grand Canyon when it was snowing and hailing, but it was during Spring Break in college!
Which destination is most underrated? Conversely, which is most overrated?
For the places I have been to, the most overrated is Merlion Park in Singapore. Because the Merlion was not as big as I thought it would be!
The most underrated for destinations I've been to would probably be Zion National Park in USA. It is a beautiful place where you can spend a few days there hiking and just enjoying the view!
What do you believe to be the biggest factor in being a successful company?
Other than doing enough business for the company to be sustainable, the biggest factor in being a successful company for me is trust. Without trust, it is very difficult to do business with others. It is also important to place trust on the employees as well for them to feel the importance of being part of the team. In order for trust to be built in the team, employee relations are also very important. Keep your workers happy!
How have you changed/grown since working for your current company?
Since starting in February 2015, I have grown to be a little more confident on my work. The company puts a lot of trust into my abilities and I really appreciate it. As a small team in Hong Kong, it really accelerates the learning curve and I get to learn the all around business as well as the operations behind it all. Starting from a program consultant to a manager was a big step and I appreciate the company's faith in me.
What unique qualities does your company possess?
Our company is really focused on social capital development. Where it puts an emphasis on building relationships between organizations, talents, and businesses. I believe that this is a foundation which is needed and it is enjoyable to be able to keep the good relationships that we currently have with our alumni as well as current students.
Describe a time when you felt especially proud to be part of your current team.
I feel proud whenever I describe this industry to people I meet. This industry is rare in Hong Kong and I believe the younger generation likes the uniqueness of this company. Many younger generation workers in Hong Kong work from 9-6pm and would usually work in finance, PR, or Marketing roles. When they hear about the fun stories I have with our students they really get interested and even ask if we are hiring! I really think this shows that being able to meet people from around the world while you work is a big plus (social capital).
What is the best story you've heard from a return student?
"My experience with Next Step Connection has opened my eyes to the 'real world' of mass communication. The internship engulfed me with positive experiences—so much that I'm going to continue writing for the company I worked for in the U.S. I loved writing about places that I plan to visit, while having the cultural exposure from working with Hong Kong locals. Jacky Mo displays impeccable leadership skills. He did a fantastic job of organizing events and building relationships with the interns. Out of all the people in Hong Kong, I'll undoubtedly miss Jacky the most."