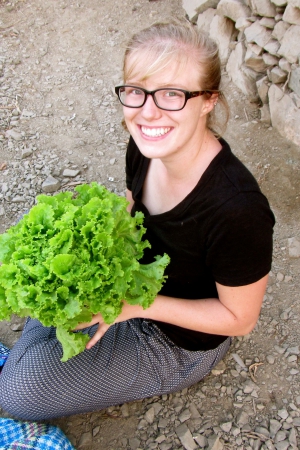 What do you believe to be the biggest factor in being a successful company?
I believe that strong communication and a commonality in motivations can really strengthen any work team. I was drawn to work for LLI after having enjoyed volunteered here during my semester studying in Lima, especially due to Lara's (LLI's founder and my supervisor) open and supportive leadership style and seeing the common commitment that myself and other staff had: to strengthen educational opportunities in Huaycán. Our most successful volunteers are often those who are willing to listen but also ask questions, be engaged in the community, and come prepared to keep the community of Huaycán and work of LLI central to their experience.
How have you changed/grown since working for your current company?
Working for LLI in Huaycán has given me concrete professional development, such as better fluency in Spanish, management experience, and ample opportunity for programming and other development work. Being part of such a diverse and dynamic team shaped me as I learned the joys and challenges of working with such a wide variety of backgrounds, experience levels, and motivations. Working for a small organization can help you not only learn about your focus or cause, but also a lot about yourself! Being based in Huaycán also helped me really gain perspective on Lima and urban poverty in general, and has compelled me more than before to listen for those voices most often silenced (as those in Huaycán have been historically).
What unique qualities does your company possess?
The Light and Leadership is unique in the combination of international and local factors we bring to the table each day. All of our programs - for women, kids, and teens - depend on the cooperation and hard work of our local and international staff and volunteers. Our program participants learn from local volunteers, whether through math tutoring for kids, guitar lessons for teens, or financial planning workshops for our women's program. Many of these programs are also facilitated by international staff and volunteers, which allows our women, children, and teens access to native English speakers and the chance to learn more about people from countries outside Peru. At the Teen Center, we host Culture Nights that have focused on France, the United States, Brazil, Lebanon, Canada, Finland, and more!
Describe a time when you felt especially proud to be part of your current team.
My proudest moment was rolling out the first module of the Teen Center's leadership program (now finishing up its second module). Developing the curriculum was a process that involved ideas and inspiration from other staff, as well as input from the teens as to what topics they wanted covered in the supplemental program now offered weekly at the Center. With the leadership program, teens can now find a more structured space to reflect, share their thoughts, learn about themselves and peers, and above all, laugh together. Our hope is that the program can continue into coming years, and that teens that age out will then be able to return as program leaders for younger, incoming teens.
What is the best story you've heard from a return student?
It's hard to choose a single story - I am in contact with volunteers who have taken their newfound love of ESL teaching back to their home community to work with immigrants or refugees, volunteers who have hosted presentations at their university about their experience, or volunteers who have introduced their family and friends to a taste of Peruvian culture by cooking Peruvian food for them. Some of my favorite stories are those that continue - through volunteers that return! I've met several volunteers that came back to work a second or even third time for LLI, which I believe speaks to the strength of the community.