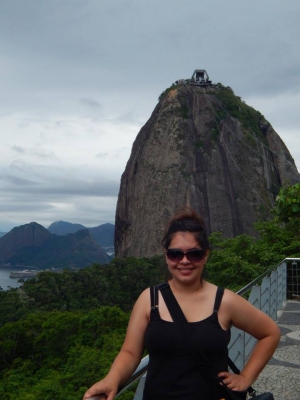 What is your favorite travel memory?
My favorite travel memory without a doubt is having seen Pope Francis in Rio de Janeiro in the summer of 2013. I had arrived in Rio with a friend, we were doing semester programs in different cities, and our first day there we decided to go out and explore. We walked through Ipanema beach and sneaked our way into Copacabana beach having zero clue that Pope Francis was going to arrive to Copacabana and give his message to 4 million Catholics for World Youth Day. We got to see him ride down in his popemobile, hear his message, and walk out inspired and in awe the day turned out that way. Definitely an unforgettable memory.
How have you changed/grown since working for your current company?
I've grown in so many little ways professionally but personally is where I've grown the most. I am proud to be as independent as I am at only 24. I am able to be self-sufficient and juggle all kinds of new responsibilities in ways I never imagined before. I am the oldest of my family so I've always taken the leadership role very seriously, especially since I pride myself in being a great role model for my younger siblings. Working for Sol and living in Austin has definitely given me perspective in my own growth in so many ways, all I can say is I'm most certainly proud to be with Sol which has taught me so much about work ethic, responsibility, and learning from your mistakes.
What is the best story you've heard from a return student?
The best stories are always those of students who come back from studying abroad with so much confidence. They recognize their Spanish has definitely improved, they know there's still room for improvement, but they now embrace their mistakes with greater appreciation because they know it's helping them get better. The best stories are those of students who change their majors because studying abroad with Sol made them see their calling a little clearer.
If you could go on any program that your company offers, which one would you choose and why?
I would fly to Oaxaca, Mexico in a heartbeat. I arrived from Costa Rica a few days ago; I studied abroad in the southern part of Brazil so I'm familiar with Argentina's area; I've never been to Spain or Europe, but I'm not in a rush to get there. My parents are from Mexico, I grew up in a Spanish-speaking household, and I don't know Mexico at all, really. I would love to start in Oaxaca and get to know my parents' country better.
What makes your company unique? When were you especially proud of your team?
My company is unique in the sense that they truly understand the importance of being immersed in a culture. I personally understand the importance of being immersed through my experience abroad, it's one of the main reasons I was able to become fluent in Portuguese. I know a lot of other providers have host families but Sol's host families pour their hearts into these students. They are on board with our mission and they go far and beyond for our students, it was truly special to witness that in Costa Rica. I'm always proud of my team but I'm always especially proud when we go into recruiting season and half of our team is not in the office. Those who stay do the greatest job of covering the other colleague and those who travel work extremely hard. I notice how strong of a team we become whenever we're in situations like that where some colleagues are out of the office and in the field.
What do you believe to be the biggest factor in being a successful company?
Truly believing in the mission of your company. Sol's mission is to treat our students the way we wanted to be treated when we studied abroad. It affects every component of our work, whether it is talking to an interested student for the first time, a return student, handling visas, transcripts, academics, etc. We carry so many different hats at Sol and therefore we treat each task with care and importance because we understand it has a ripple effect on one student or a whole group. If you don't believe in your companies' mission you're simply working another job.