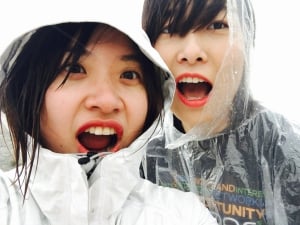 What is your favorite travel memory?
It happened in June 2016, when I quit my last job to travel with my friend Shishily and Barbara to Yellowstone National Park. We saw tons of bison, elk, grizzly bears, black bears, bighorn sheep, coyotes, and moose. It was amazing to see geysers, different landscapes and various wildlife. We were even surprised by a hail storm in the middle of June.
How have you changed/grown since working for your current company?
I love the idea of culture exchange a lot, and I feel wonderful spending my time with au pairs and helping others get to know my country, China. Wanderlust Au Pair is an amazing innovative company that I can actually express my thoughts an ideas to, in order to make a difference in the world.
What is the best story you've heard from a return student?
The seven au pairs I have met so far are all from different countries. It's very incredible for me to imagine a group of people with different backgrounds who are willing to sit together and talk about how much they love China and hear that they want to spend more time with their host families.
What makes your company unique? When were you especially proud of your team?
The idea of cultural exchange, to make foreign people learn, care about, and explore China as well as to allow the Chinese host families to get to know Western culture is inspiring, and I am very impressed by this idea. The working environment is great and I get a lot of opportunities to speak with people from different backgrounds. Also, my supervisor, Hazel (Wanderlust Program Director) is super nice and helpful; she really knows what the host families and au pairs need, and provides full support promptly.
What do you believe to be the biggest factor in being a successful company?
I think the biggest factor to be a successful company is to love what you do. It's only when you have passion for what you do, and are willing to spend time on it, that you are able to combine career development with personal development.