What is your favorite travel memory?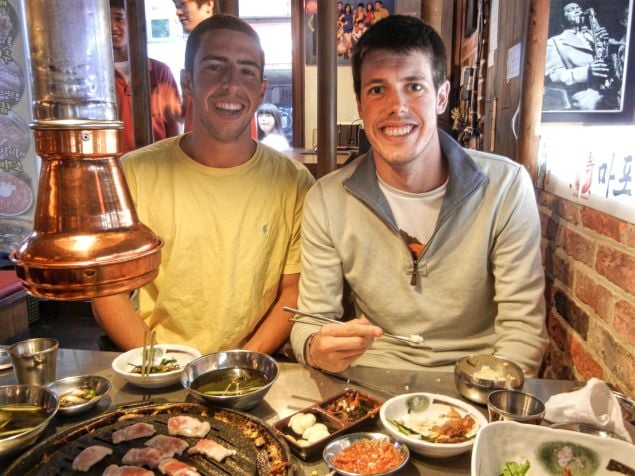 One of my favorite travel memories is camping on the beach on Deokjeok Island in South Korea. It's a beautiful, mountainous island with perfect sandy beaches that is about an hour off the coast of Incheon.
My friends and I brought a tent and cooking supplies and we had the entire beach to ourselves. After a long nighttime walk, we stumbled onto a group of elderly Koreans drinking and eating by a fire. Though we spoke no Korean and they spoke no English, they shared their food and drinks and told us jokes (at least I think they were telling us jokes).
Compared to the bustle and fast pace of urban Korea, it was the perfect relaxing getaway. Also, it's really hard to beat falling asleep to the sound of waves on a deserted island!
What is the best story you've heard from a return student?
It's hard to choose one story over another! For me, the best moments are hearing from teachers who were once hesitant and nervous in their initial interview, but are now in love with their new life in Korea.
From building relationships with the students, meeting new people, and experiencing such a unique culture, they can't believe that they were ever anxious about moving to Korea. I never get tired of seeing how far these teachers have come!
What makes your company unique? When were you especially proud of your team?
The strongest and most unique aspect of our organization is that we have all taught English in Korea.
As former teachers, we know personally what it means to navigate the visa process and the Korean work environment.
We saw firsthand the joys of living and teaching in Korea, but also the trouble that people can get themselves into by working with an agency or school that is not trustworthy. Unfortunately, when recruiting agencies lack that experience, there is a large disconnect between them and the teachers.
To avoid that, we take extra steps to prepare our teachers for all that is ahead and are there should they need us from the time they apply to the time they leave Korea.
What do you believe to be the biggest factor in being a successful company?
For our company, one of the biggest factors is always considering the point of view of the teacher. When running a business, it's easy to only think about what is best and most efficient for yourself as an employee – and thus lose focus on the people who use your service.
As former teachers, we understand how big of a life change this can be, especially for anyone who hasn't traveled much or lived abroad. To that end, we have spent 15 years fine-tuning our processes with an emphasis on the teacher.
From their initial interview to their final day in Korea, we provide an experience that is straightforward and stress-free!