What is your favorite travel memory?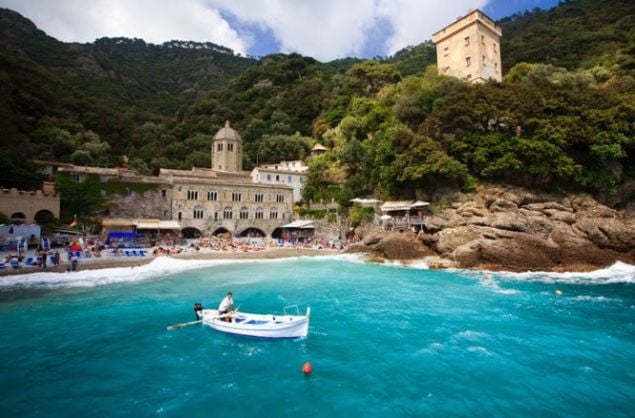 Traveling and hiking through the Portofino Regional Park area. My friend and I discovered the tranquil towns of Camogli and S. Fruttuoso on the Portofino peninsula and spent a few days hiking all the trails imaginable between Camogli and Portofino.
During our daily hikes we would stop at the same cafes for breakfast and local store for fresh fruits and snacks and each time we learned new things from the locals - new places to discover, new trails to walk.
Stopping in the tucked cove of S. Fruttuoso with its small pebbled beach, clear blue waters and tranquil monastery for lunch every day was a great way to spend a long weekend.
How have you changed/grown since working for your current company?
When I first moved to Milan I came to study visual arts and museum studies, once I started working with the company I learned a lot from the students we received, who studied mostly fashion and high product design.
Over the years I have learned as much from the students who come to Milan as they do from me.
It's difficult to live in a city that has such a rich culture in design and fashion to not realize that the visual arts community is deeply intwined with that of fashion and furniture design. When listening to Carlo Rivetti of Stone Island speak to a group of students from UofArk about the importance of brand identity, textile science development, and research in design innovation, my narrow view of the fashion world (fashion shows of clothing with little utilitarian purpose) was broadened.
SAI's various programs include not only semester but also custom faculty led programs. Organizing and assisting with activity and program development has given me the opportunity to assist groups in various fields: including textile technology, psychology, material sciences, and education.
Being able to encounter such a diverse group of students and faculty on a regular basis has allowed me to continually grow as a person. Over the past four years I have changed and learned that change is inevitable when you continuously allow yourself to learn of new cultures, perspectives, and places.
What is the best story you've heard from a return student?
I have continued to get information about past students and their life after study abroad. Perhaps the best story I have heard from a former student was after my first semester working with SAI Programs.
Three roommates, who had never met before and who came from different home schools and different areas of the USA, became such good friends during their semester in Milan that the following summer, all three moved to Southern California together to pursue careers in the fashion industry with various internships.
They road tripped cross country together to their new home in L.A. They stayed roommates. And though each of them have moved due to their success in their own careers - after four years, they still remain very close friends.
Seeing stories like that unfold is wonderful and a testament to how study abroad can forge such strong friendships and relationships.
If you could go on any program that your company offers, which one would you choose and why?
Elisava's Research for Design Innovation Program in Barcelona. Already having a background in exhibition design and having been exposed to product design in Milan, I would enjoy the programs curriculum.
I also would enjoy the activities SAI Program offers outside of the classroom, especially the Casteller "Human Castle" workshop (which involves the tradition of human towers in Catalan) and the trip to Monserrat and Cava Cellar. They are both things I have always wanted to experience and still haven't had the chance.