Tell us a little about Frontier and your role at the company.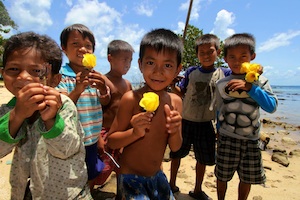 Nick: Frontier's operations in Cambodia cover two idyllic locations, the first being a marine environment left largely uninvestigated by the scientific world, which gives us a great opportunity to explore and record the marine life and ecosystem of a small Island off the gulf of Thailand. The second location is next door to Ankor Wat, which needs no introduction, with an ever expanding teaching and medical program.
Cambodia is a developing country and one that is progressing fast and Frontier has been working towards ensuring that education for underpriveleged children and the environment are a big part of Cambodia's development plans. With strong government ties as well as strong hold in the NGO community Frontier has built a platform for further project development.
How did you get involved in the volunteer industry?
Nick: I have been working in the conservation world previously to this, with experience in Tanzania, Thailand, the Philippines and Cambodia, with community-based conservation and community welfare being a key part of my experience. Having also worked in operations roles, I have experience in planning and project management. I recognized early on the importance of volunteering as alternative income for NGOs. Having a constant supply of eager-to-learn individuals with a positive outlook helps any challenging project, therefore I am using my experience in managing volunteer activity to get the best out of a crucial project.
What makes Frontier unique?
Nick: Frontier is unique mainly for its ability to connect with volunteers, and offer them activities and projects which they can really sink their teeth into. Frontier is largely a young organisation with many experienced people with two main area of expertise in conservation / Eco tours and community and teaching projects. With a wealth of experience in these fields and strong local ties, Frontier can understand volunteers requirements and help to ensure that volunteers get the most out of their experience, to better the project and improve Frontier's operations in that location.
What are you most proud of having achieved while working in the field for Frontier?
Nick: Implementing a new remote project isn't easy and meeting with local authorities to gain their trust and approval can be harder still, as the best project can fall flat on its face without the correct approach to government approval and local people accepting new activity in their community. My greatest achievement in my first few months with Frontier was the gaining acceptance within the local community, government and police for the new and increasingly popular marine project, which aims to discover and record the state of marine life in an unexplored area of Cambodian waters around the small island of Koh Smach. As a result of this, we now have local, government and departmental blessing to move forward and establish a strong marine conservation project for the future.
What are you most looking forward to in the future in regards to field operations in Cambodia?
Nick: The great thing about working in Cambodia is that it is the land of opportunity, and once we have all our new projects running to as high a standard as the marine project and medical / orphanage projects, I hope to bring to the table more conservation projects. Cambodia is an expanding country in every sense and I feel passionate about Frontier helping to ensure the wildlife in Cambodia is not forgotten about.