What makes interning in Shanghai a unique experience for participants?
Jimmy: Shanghai is such a dynamic, charming and international city, it was once called the "Paris of the East". Shanghai has been heavily influenced by western culture in the last century and this, mixed with traditional Chinese culture, has formed a unique "Shanghai Culture".
With China's economy booming and Shanghai fast becoming the financial center in the country, interns interested in finance will find Shanghai a very interesting place to work. Many entrepreneurs from China and abroad are also coming to Shanghai to start their business, so students and graduates interested in entrepreneurship and working in a start-up environment will find that Shanghai is a great place to be. Additionally, many different types of NGOs have been popping up in the city, run by both locals and expats. These organizations range from environmental sustainability related to education and youth development. Additionally, opportunities for interns are available in both local Chinese as well as international hospitals in Shanghai.
What can you tell us about the workplace culture in Shanghai?
Jimmy: Due to its financial and business role in China and influence from the West, business etiquette is geared more towards the West. People arrive at work on time, work hard and efficiently. A lot of talented people come from all over the country to work in big cities like Shanghai, which has created a rather competitive and hard-working workplace environment.
Also due to the underlying Chinese culture, coworkers and business partners need to build a good guanxi (or relationship) with each other, which can have a profound effect on day to day work. Guanxi can be strengthened through eating out and drinking together after work, but of course this varies from company to company.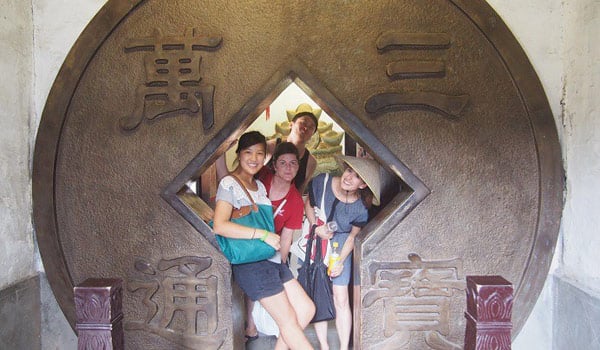 Do interns need prior work experience in order to apply for this internship? How does Connect-123 ensure a rich professional experience during this internship?
Jimmy: Prior work experience is not a requirement for an internship in Shanghai; we can find opportunities for both fresh graduates and young working professionals. During the application process, we will make sure the intern and the company/ organization will be a good match for each other. Once the internship starts, we stay in close contact with the intern and company and periodically check in with them to find out how the internship is going. That way if there is ever any concern or issue, we can act quickly to resolve the situation. After the internship, we will also give suggestions to the interns on how to communicate the value of this internship experience and use it to help with future job searches. Additionally, we have the Connect-123 alumni network which is a valuable resource for the interns to utilize as they continue on in their careers.
What level of Chinese language proficiency do you recommend for interns considering this program? Are there any requirements?
Jimmy: Connect-123 doesn't have a Chinese language requirement as we can find opportunities that use English as the working language. However, having a minimal command of Chinese definitely can help interns with their daily life in Shanghai! We have a recommended language school partner here that offers discounts for all their language courses to our interns.
What are some extra-curricular activities participants enjoy while interning in Shanghai?
Jimmy: There are tons of activities that our program participants can do, both with Connect as part of our weekly events social calendar, as well as on their own. Some examples of recent cultural events we've done include going to restaurants to sample different Chinese cuisines, visiting the opera, exploring the different markets, going for a hike, exploring ancient gardens, temples, and ruins, and the list goes on! One big highlight for me is our day excursion to the nearby feathered cities and water towns!
What is one piece of advice you would offer someone considering interning in Shanghai?
Jimmy: China has been changing rapidly in the recent decades, and Shanghai, especially, has come into its own as the financial center. If you want to experience this thriving growth then you should definitely consider an internship in Shanghai! Not to mention, this city and this nation's ancient history and culture will broaden your horizons in so many ways!