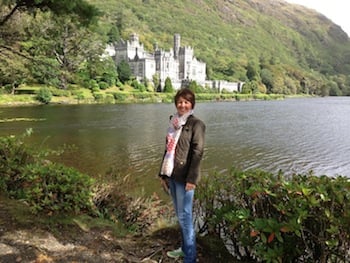 What has been your career path so far and what position do you currently hold at Stint?
I am the Founder and Managing Director of Stint. My early career experience was in advertising, sales and brand management. I then worked in international education for the last 5 years with an internship placement company in Cape Town as a Program Coordinator specialising in placements in the fields of Education, Human Rights, and Social Work.
I then returned to Ireland in 2012 as Program Manager and established a Dublin program before starting out on my own. I have also completed a Post Graduate Certificate in Education and enjoy teaching English to both first and second language learners.
Did YOU study abroad?! If so, where and what inspired you to go?
I grew up in England but chose to study full-time in Ireland at Trinity College Dublin. My mother is Irish and my parents both met at Trinity so it was a natural choice for me, and also the perfect destination to study English and Philosophy, I was also lucky to meet my husband there! I took a Gap Year before university and travelled across South and Central America from Chile up to Cuba, and spent 3 months in Guatemala volunteering at an orphanage there. I also travelled extensively during my university holidays, and spent time volunteering as a teacher in Mozambique, and with women with disabilities in Sri Lanka.
What does the future hold for Stint? Any exciting new programs to share?
Stint Ireland will offer the widest range of bespoke internship and study experiences in Dublin. Some of the most exciting sectors in Dublin at the moment are in the creative arts, digital marketing, and emerging entrepreneurialism. Dublin isn't the only great city in Ireland though, and Stint plans to extend its internship and study programs to Galway and Cork too.
How do you think study abroad and international education will change over the next 10 years?
Study abroad and international education have already started to emerge as an almost essential part of an education, and they will become more and more embedded in higher level education. I think there will also be a lot more customized programs offering students the opportunity to create their own experiences around their specific interests and career goals. I think countries will also start to recognize the importance of sending their students abroad, and also in welcoming international students, and with this recognition, hopefully more funding initiatives and international collaborations will emerge making international education and study abroad available to the majority, not just the minority who can afford it.
Which study abroad destination is most underrated? Conversely, which is most overrated?
If you put someone with the right attitude anywhere, they will make an incredible experience out of the situation. I think the whole point of studying abroad is to take yourself out of your comfort zone and learn more about the world around you, but most importantly, to learn more about yourself. As Emerson said: "Life is a journey, not a destination."