What position do you hold at African Impact? What has been your career path so far?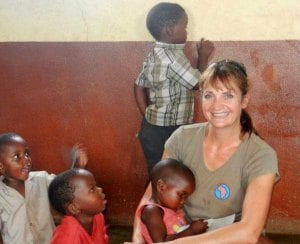 Natascha: I am a Development Manager at African Impact. I started out as a project Manager at our Thanda Game Reserve projects in 2011 when it first opened. The projects grew quickly, with a Research & Conservation focussed project and an over 30's Community project added to the offering by the time I became Business Manager.
Our first year at Thanda saw 130 volunteers join us on project. This has grown to 200 volunteers in 2012, and it looks as though this year we'll be beating our record yet again! 2013 is also our first year we'll be open over Christmas, offering volunteers a festive season that is both unique and rewarding! What better way to spend Christmas than by giving back to conservation while celebrating the holidays in the African bush?! My recent appointment to Development Manager gives me the opportunity to work with new projects and to develop the African Impact portfolio, establishing lasting relationships in communities where help is needed.
Did you volunteer abroad? If so, where and what inspired you to go?
Natascha: I volunteered with African Impact in St Lucia several years ago. My time in South Africa was fantastic and I left knowing I had left a part of me behind and was destined to return.
I was inspired to experience more of Africa and had the chance to travel the continent solo, but safely and all the while experiencing Africa on a much deeper level than the average tourist. I had hoped to meet some like-minded people and be able to use my skills from my professional life in the UK, and when I returned to African Impact it was a dream come true.
What inspires you most on a daily basis?
Natascha: My inspiration comes from the volunteers who join us and the measurable successes they achieve each day. The accomplishments we see from their willing hands and minds is fantastic. I feel lucky to have experienced so many of our projects and to have seen the positive impacts of each, which can vary enormously.
Whether it's a special community day supporting the local clinics, celebrating World Aids Day, a grandmother receiving a certificate for progressing through her reading levels, or data collection and analysis of the movements of wild elephant herds, every small victory is inspirational. But even beyond this, knowing that so many volunteers leave having learnt something about Africa, having tested themselves, grown as people and vowing to return is what keeps me going!
What should volunteers know about South Africa when considering it as their next volunteer destination?
Natascha: South Africa sits in a unique position. It's often seen simply as an emerging first world country with a big mining industry, but dig a bit deeper and there lies so much more richness in heritage, culture and passion. Volunteers are instantly welcomed into peoples' lives and homes. A country that has just emerged from a tangled history is open, warm and wanting to celebrate.
In SA you experience a mixture of beautiful landscapes, easy and safe travel, and English widely spoken. You also get up close and personal to wildlife as you never have before.
What makes the African Impact volunteer programs in South Africa so unique and special?
Natascha: This is a chance to meet people and become intrinsically part of daily life in Africa. Whether it's people or animals you wish to meet you have the opportunity of a lifetime to do so and alter your perspective.
It's rare to be able to combine both these elements in one project, but African Impact offers just that – a chance to combine various experiences. We are also great at putting together weekend trips and add-on tours for volunteers who want to see the local sites or do a bit of adventure travel!