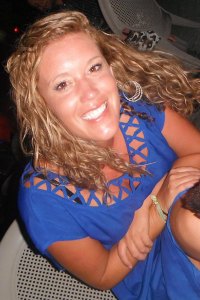 What position do you hold at VolunQuest? What has been your career path so far?
Heather: I work as a Volunteer Supervisor and English Teacher for VolunQuest. My duties include conducting volunteer trainings, supervising all volunteer in-classroom teaching, aiding in lesson planning and curriculum development, overall support during the volunteer's stay, holding the position of head English Teacher during classes throughout the school year and maintaining an online curriculum.
I graduated from Cal Poly State University with a B.S. in Child Development and the next month I was on a plane to Thailand to begin my one year stay as a volunteer English teacher and receive my TEFL certification. Following Thailand I moved to the mountains of Guatemala to help the start-up of an Early Literacy and English program in a remote village.
From there I went north to my first year on the Island of Isla Mujeres as the Head English teacher at a small bilingual preschool. After 3 years of traveling and working abroad I find myself starting the next year with Volunquest and I couldn't be more content with the job and life on the island.
Did you volunteer abroad? If so, where and what inspired you to go?
Heather: Yes, I volunteered for a year in rural Thailand while receiving my TEFL certification. I worked as an English teacher in 2 elementary schools and conducted free teacher trainings. I was inspired to go because I wanted to 'do something'.
I had spent most of my life up to that point in school learning about teaching and all the problems in the world and really wanted to put it to use in places were it was needed. I was open and ready for new experience and adventure. It was also a time for me to be on my own and learn how to survive outside the comforts of what I have known.
I didn't know that that experience was going to have the effect on me that it did and now almost 4 years later I'm still traveling and teaching abroad. It was probably the most difficult experience I have had but also the most meaningful and significant.
What inspires you most on a daily basis?
Heather: It really isn't hard to be inspired and motivated in working for VolunQuest. Being greeted at school every morning by hugs and "Good morning Teacher" really puts a smile on your face. Also, there is a true need for students in Isla Mujeres to learn English. It can have a profound impact on their life and their families. The higher paying jobs on the island go to English-speaking Mexicans.
Also working in a tourist industry, workers have a chance for tips and returning customers if they can connect with the English speaking tourists. Knowing that my English class can really make a difference in their life and seeing how intelligent and the amount of potential the children have here is inspiring.
What should volunteers know about Isla Mujeres when considering it as their next volunteer destination?
Heather: Isla Mujeres is the perfect place if you want to volunteer in a beautiful, safe environment and experience a culture outside your own. You can meet people from all overall the world on the beaches or take a walk through the neighbors to practice your Spanish.
There is cheap, delish food from one of the many restaurants in town or pick up tacos from the street vendors. Any essential items can be found in the island's supermarket so don't worry if you leave something at home.
Important to note that there is a rainy/hot season roughly from May to October and a cold/dry season from November to April. Of course this is the tropics so weather can't be predictable but a good idea to check the month to see if you need a rain jacket.
Finally Isla Mujeres has a majority of catholic residents celebrates with many festivals and ceremonies. However, churches and synagogues of most major religions can be found and attended on the island.
What makes the VolunQuest's volunteer programs so unique and special?
Heather: The most unique aspect of Volunquest is the range and quality of projects offered to volunteers on the Island. Anything from being an English teacher, helping with baby turtles to planting coral reefs can be done with Volunquest.
Also, Volunquest really encourages volunteers to interact and become a part of the local community. With the option to take Spanish classes and live with a local host families Volunteers can have an authentic experience and really connect with the island culture.
In terms of the English teaching program, the fact that it is located directly in the public school system and volunteers are trained to teach the National curriculum is the first of its kind in Mexico. Of course all of these projects can be participated in while enjoying the perfect white sand beaches and clear turquoise water of the Caribbean.