What position do you hold at HEC? What has been your career path so far?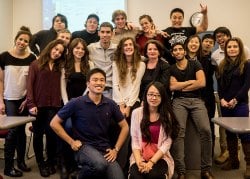 Juliette: I am the Business French Instructor at HEC Montréal Business School.
Did you study abroad? If so, where and what inspired you to go?
Juliette: Unfortunately, I have never studied abroad. I would have liked to do so in order to learn, among other things, other languages but I guess it was not meant to be.
However, throughout my career as a professor of French as a Foreign Language, I have had the chance, or should I say privilege to meet students from around the world. This has allowed me to travel vicariously through them, providing me the opportunity to see the world through their eyes while giving me an appreciation for all its richness.
This knowledge that I have gleaned from others has served me well and will serve me still in my professional life as a teacher. Without this insight, I would not be the teacher I am today, certainly not as sensitive and appreciative of the needs of my students.
What does the future hold for HEC - any exciting new programs to share?
Juliette: I am delighted and proud to be part of the impressive team at The Foreign Language Training Center at HEC Montréal Business School, a warm and stimulating university environment within a forward-looking and innovative institution that is definitely paving the way for the education of tomorrow!