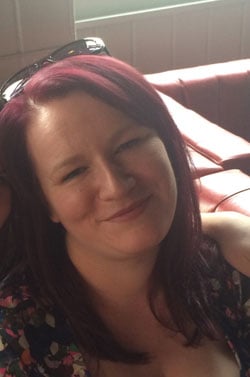 What position do you hold at FIE? What has been your career path so far?
Pauline: I am the Assistant Resident Director at FIE Dublin. In 2009, when I started at FIE London, I had been working in Administration for around 10 years already, helping my mum out in her business with invoicing and purchase orders.
My progression with FIE London's Administration Team over 6 years were fantastic but found myself looking for a new challenge. After a some temporary positions within London, I felt a new location was in order and was delighted to re-join the FIE family in Ireland!
What was your favorite traveling experience?
Pauline: When I was a little one, my mom used to make soft furnishings (curtains, sofa covers, cushions) for a couple who had a home in a tiny little town in the Loire et Cher district of central France. In exchange for this, they let our family (mum, dad, me and little sis) stay in their barn conversation.
So, we used to drive from Glasgow in Scotland, right down through England (around 8 hour drive), take the over-night ferry to France, and then drive down to Saint Aignan (4 hour drive). I can firmly remember driving through endless fields of sunflowers, the little lizards that used to climb the walls outside, watching thunder storms for miles, discovering baguettes and pain au chocolates, it's some of the best memories I have in my life. We returned this year and it's still as peaceful and picturesque as it was then!
Did YOU study abroad? If so, where and what inspired you to go?
Pauline: How do you think I got so bloody passionate about all of this! When I was finishing up with high school, I truly did not feel mentally ready to start at university, I wanted to take some time out before starting but did not want to sit on my bum doing nothing!
My mum had heard through a business colleague about a US high school exchange program - his daughter expected to end up in New York, Chicago, LA; she ended up on a farm in Kentucky and loved every single minute of it! I applied, I remember going for an interview at a very swanky hotel through in Edinburgh, and suddenly I was going.
I was PAINFULLY shy when I was younger, I couldn't speak with anyone unless they started conversation, and even then it had to be dragged out of me, so being thrown into a completely new environment was a wake-up call. I was living with a host family with three young children and grandmother also staying, a new family setting that I was clueless with.
I started at a local high school that started at 8.30am, a ridiculous starting time in my mind, especially in the winter when I could hear owls hooting whilst waiting for the bus! I was the shiny new girl with the strange accent and so everyone wanted to talk to me, ask me questions about my home country, share their lives with me, it was all so overwhelming but I LOVED EVERY MINUTE OF IT!
It changed me fundamentally and the best example of this I can give is the traveling to the program and at the end of the program. On the flight out, people sitting next to me were asking me questions, seeing me alone, and trying to make conversation with a painfully shy girl.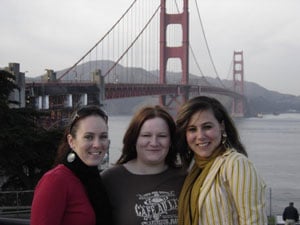 Coming back to the UK, I was starting conversation with people, I was desperate to tell anyone who would listen about the most amazing experience of my life! I moved to the north of Scotland to attend Aberdeen University - within the first week of walking about campus, I saw posters asking "Do you fancy spending a year abroad at a US university? I grabbed the poster and ran, desperate to do it again.
I spent my sophomore year at Clemson University in South Carolina, another fabulous year of cultural experiences, being the token liberal European in my Political Science classes leading to fabulous debates, learning all about tail gating, having a guy scream quotes from Braveheart at me across the quad whilst walking to class, got 12 invitations to homes for Thanksgiving dinner, made some fabulous US and international friends and put my passion for study abroad into volunteering with the Study Abroad department to develop a Living Learning residential scheme at Clemson.
What does the future hold for FIE? Any exciting new programs to share?
Pauline: Every program is exciting! I have a particular passion for our freshman programs because I think that there's no better way to start your collegiate experience. Our internship and service internship courses are of particular importance to students as job markets grow increasingly competitive and students require that little bit extra to stand out - what better way to impress than proving your ability to adapt to a complete new environment and be able to reflect on the experience to prove your capabilities.
In the summer, we have a fabulous Peace and Conflicts program that take place in Dublin and Amman, Jordan; particularly appropriate given the current world political environment.
What about the future of the industry? How do you think study abroad and international education will change over the next 10 years?
Pauline: Diversity and Inclusivity is key for the future of international education. Study abroad is dominated by a population of white, middle class females (of which I belong myself) but every year we see slow growth of under-represented populations but more needs to be done to encourage and create a welcoming environment for those students from a diverse background.
Personally, I have more of a focus of those students with disabilities and increasing their participation in study abroad. The immediate thought is to those with physical disabilities and removing physical barriers, but also those with mental, medical and learning disabilities should be welcomed and encouraged to participate through the creation of universally accessible programming.
Study abroad should be an opportunity, nay a necessity that ALL students have access to.
What do you believe to be the biggest factor in being a successful company?
Pauline: In terms of our service provision, I think our personal touch on each and every program has brought us and sustained partnerships with US and international colleges, universities and program providers. Each program we provide is tailored to suit our partners and their students and I think our service provision gives each student an exciting experiential experience that they will carry with them for the rest of their lives.
Not to toot my/our own horn, but I truly believe that the FIE Team members are what truly make us successful. Each staff member puts there all into delivering a program on a day to day basis and FIE is hugely supportive of its staff in personal and professional development opportunities.
What country have you always wanted to visit?
Pauline: Strangely enough, Russia. I honestly have no links to the country, don't speak the language, don't have a particular taste for vodka and have a huge distaste for Putin, but there's a deep urge within me to visit the country. I think my fair skin is so deeply against sun that it is driving me to the coldest of countries. The Imperial architecture in St Petersburg and Moscow are particularly appealing to me.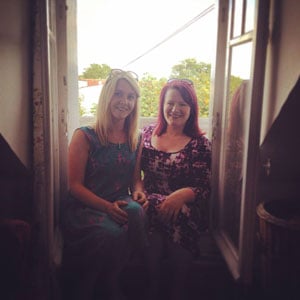 What language have you always wanted to learn and why?
Pauline: I tried Spanish for a short while but kept getting it mixed up with French (and still do). I would love to learn Arabic, because we have a few Arabic speakers within FIE, and I have a particular fondness for Lebanese food that I would like to order and pronounce without being that horrible English speaker that ruins their mother tongue.
That being said, my number one language I am determined I will learn is American Sign Language (ASL). We've had a few deaf students with us in London, and we've been lucky in the respect that they have been well versed in lip reading, but I would desperately love to be able to learn the language - at the moment, I can finger spell my name!
What changes would you make to the study abroad industry?
Pauline: I'd make it mandatory for every college student to have at least one semester abroad. To experience how others live should be a life changing event, a disturbance to the "norm" that will show your ability to adapt to something new, something different, and give you the opportunity to examine and reflect on yourself and your behaviors.
Describe a time when you felt especially proud to be part of the FIE team.
Pauline: I was overwhelming proud to be a part of FIE when we won the GoAbroad Award for Innovation in Sustainability. FIE's commitment to the environment is deeply imbedded in all that FIE does and, particularly through our Sustainability Action Group members efforts, we work hard at trying to find new initiatives to increase the visibility and impact of our sustainable agenda.
Our partnership with the UK NUS (National Union of Students), our Student Switch Off Campaign was a fantastic success and had a true impact on not only reducing energy use in the residences but in getting students motivated and thinking about their actions and the consequences of such. To be recognized for the hard work that staff and students put into making it success was a definite bonus.
What is the best story you've heard from a return student?
Pauline: We generally don't have "return" students, they're with us for one semester/program...but a few years ago, we had one student from a Fall London semester program, he completed an internship, was often in the office effusive in his praise about what a fantastic experience he was having...so much so he was returning for Spring!
Spring semester came and went...and he decided he was coming back for the Summer program his home institution also had! He wanted to come back for another Fall semester but his school was insistent that he finish his degree at home, quite obviously. He came to visit a year later, he was doing his Masters in London.
We've heard from visiting faculty that he's still in the UK, although at this point I'm not quite sure his immigration status that allows him to stay... To see someone so completely taken by London, by the culture and working environment, was so brilliant and I hope that all of our students feel at least a small amount of during their time abroad!